Chip Designer Wins 2022 ACM Breakthrough in Computing Award
Written by Sue Gee
Friday, 21 April 2023
David Papworth, a lead designer of the Intel P6 (Pentium Pro), has been named by the ACM as the recipient of the 2022 ACM Charles P. "Chuck" Thacker Breakthrough in Computing Award.

Conferred for the first time in 2018, this award is named to celebrate Chuck Thacker's pioneering contributions in computing and his long-term inspirational mentorship of generations of computer scientists. It is intended to recognize individuals or groups who share the same out-of-the-box thinking and "can-do" approach to solving the unsolved that Thacker exhibited and is accompanied by a prize of $100,000 with financial support provided by Microsoft.
It is a biennial award and the previous two recipients are Mendel Rosenblum in 2018 and Michael Franz in 2020.
The citation for David B Papworth reads:
For fundamental groundbreaking contributions to Intel's P6 out-of-order engine and Very Long Instruction Word (VLIW) processors.
David Papworth was employed at Intel Corporation from 1990 to 2020 where he had various roles including Principal Processor Architect, and Intel Fellow. Prior to joining Intel in 1990, Papworth was a lead designer and system architect at a startup called Multiflow. Multiflow co-founder Josh Fisher had invented the Very Long Instruction Word (VLIW) style of system design. Papworth re-engineered Fisher's design to be implementable in 1985 hardware while carefully maintaining those aspects of Fisher's VLIW scheme that were essential to performance. VLIWs are now well-established in graphic processing units (GPUs), AI accelerators, and digital signal processors (DSPs), a tribute Papworth's ability to juggle extreme complexity and come up with economically viable, industry-influencing solutions.
At Intel, Papworth was the lead designer of the Intel P6 microprocessor which is considered was a landmark design, not just for Intel, but for the computer design community. It introduced a new microarchitectural paradigm of decomposing complex x86 instructions into sequences of micro-operations that flowed through a microdataflow engine, constrained only by true data dependencies and machine resources. Surprising to many, this scheme also enabled significantly higher clock rates.
According to the ACM:
To a large extent, it was David Papworth's deep intuitive understanding of multiple computer system levels, hardware, software, operating systems, compilers, languages, algorithms, microcode, and much more, that let the P6 design team successfully navigate the thousands of design tradeoffs required of a modern processor, in a timely way, while striking competitive balances among cost, performance, power, and schedule. Papworth was also the ultimate judge of how and when to use P6's new microcode-patch facility to deal with any design errata that might turn up. That P6 was a runaway success for Intel is clear in that Intel's cores today, 30+ years later, still use the micro-op paradigm, along with many of the architectural improvements shepherded by Dave in 1992.
More Information
David Papworth Honored With ACM Breakthrough in Computing Award for Pioneering Contributions to Microprocessors
Related Articles
ACM Breakthrough Award For JIT Compilation
Inaugural ACM Chuck Thacker Breakthrough Award
New ACM Breakthrough In Computing Award
To be informed about new articles on I Programmer, sign up for our weekly newsletter, subscribe to the RSS feed and follow us on Twitter, Facebook or Linkedin.
---
Advice and Admissions From Creator of C++
27/08/2023
Bjarne Stroustrup is the creator of C++, author of many books and is currently a professor of Computer Science at Columbia University. In two short "DevBytes" from Honeypot.io he tells how he bec [ ... ]
---
Unity Introducing Per-Install Fees Leaves Devs Reeling
13/09/2023
When Unity announced plans for a new "Runtime Fee" tied to a player's installations of a game left many game makers wondering if having a hit game through Unity would cost them more mon [ ... ]
More News
Summer SALE Kindle 9.99 Paperback $10 off!!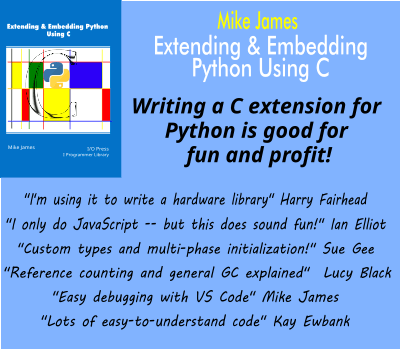 Comments
or email your comment to: comments@i-programmer.info
Last Updated ( Friday, 21 April 2023 )