Why the Trope of Anita Sarkeesian Matters
Written by Jacqueline Spiegel
Saturday, 14 July 2012
Page 4 of 4
Men against misogyny
The biggest problem, IMHO, that feminists have – again IMHO – is the name Feminism. Why?
Because the root of the word, fem, leaves out 50% of the population.
Men cannot be feminists by definition, and there is no great ist word that they can be if they are standing up to misogyny.
So, let's try to come up with another word that will be more gender inclusive. Because as I have discovered, there are a ton of men who are just as rabid about this topic as we women are – and in speaking about a small percentage of men who abuse, it would shock me if in the gaming world they represent more than 5% of the male gaming population.
Here are just two male voices out of many against misogyny. In this video, Ill Doctrine speaks directly to the gamers themselves – hoping to have the ear of the violent offender who thinks this is a perfectly fine approach to social interaction:
Dr. Nerdlove, in Nerds and Male Privilege: Tropes, Trolls, Haters and Anita Sarkeesian tells his audience of nerds that in this situation a segment of them have overstepped the mark and that they should "dial things back".
The list of men who support Anita, and situations like hers, is very long. Checkout these links for other articles supportive of Anita:
Jonathan Grey Carter Kickstarter Video Project Attracts Misogynist Hoarde
John Funk Flash Game Makes Players Beat Up "Tropes vs. Women" Creator

Dan Pearson Women vs. Internet : How Anita Sarkeesian beat the Trolls
Ian Miles Cheong Ben Spurr Makes Game Advocating Physcial Violence Against Anita Sarkeesian
In fact, it may even be a 50/50 split between sexes as to who is reporting this story, and talking about it in a sympathetic manner.
Why this battle is essential
To return to Anita for just a minute, the person, not the trope :
"In addition to being loads of fun to play , research has found that gaming can improve problem solving skills, team work, creative thought, and multitasking and improve hand eye coordination and enhance perceptual and cognitive abilities"
But it is game designer and developer Jane McGonigal who, as explained on a recent TED blog, believes that gaming can decrease depression and add 10 happy years to your life (if you are not emotionally maimed by trolls). This makes it essential that girls and women be welcome in this space the same way men are.
One more thing
All women should want to join up and come together over this issue, but the truth is that for so many reasons, often this is not the case. The reasons that many women have abandoned this fight vary, but the result is very real – the few are left to battle alone, if they have the strength and courage to battle at all. It is important that every woman be able to feel welcome to join together to support rooting out misogynists and harassers everywhere. This fight is not winnable unless this can be achieved.
Let's broaden the definition a bit
These creeps win when they can splinter us. It is my job, I feel, to bring us all back to the table. This is not a fight against a few women, it is not a fight against women at all – this is the fight of good vs evil – whether it is women, minorities, or students – harassment is harassment – violence is violence – evil is evil – we have to face up to this honestly, and fight it together.
What you can do
But we cannot win unless we define this as worth fighting for.
Be Vigilant about defending people against all forms of harassment (this by far is not just a women's issue)

Expose those who should be exposed – if online violence can be chalked up to behavior on the internet akin to living in America's Wild West in the 19 Century, I am calling for Wanted Ads and Posses where outing would lead to a Reward, and the individual turned over to law enforcement - structured entities, who are deputized by vigilantly agreeing to and then operating under - an ethically pre-conceived and agreed upon code of conduct and honor - funded by corporate sponsors, Hollywood and donors – and run similarly to any company. A Wiki Troll Leak or some such thing.

Fund more projects that support favorable new tropes of women and minorities – these topics go hand in hand.

Have a discussion. I have created the closed FB group Voices Against Violence Online. But it does not matter where it is discussed – the more places, the better.
Author note:
Jacqueline Spiegel is a Computer Programmer, who has worked in the field of Educational Software Development and Brain Imaging for over a decade. She is the founder of the Facebook groups CompScisters for Open Ed female students in CS and STEM subjects and co founder of its counterpart CompSciblings, a group where both men and women can discuss gender issues in the fields of computer science and technology.
Summer SALE Kindle 9.99 Paperback $10 off!!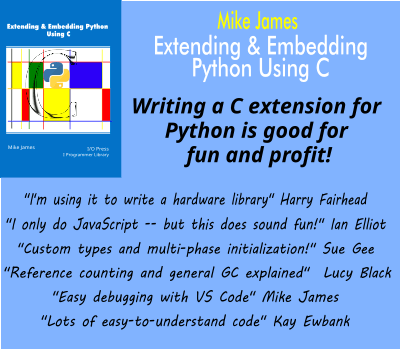 Comments
or email your comment to: comments@i-programmer.info
Last Updated ( Monday, 16 July 2012 )