Written by Kay Ewbank
Thursday, 23 January 2014
Page 2 of 2
Having got to grips with mainstream SharePoint development, there are several books aimed at more specific areas of interest.
SharePoint with Office 365
SharePoint Online is a growth area, and Pro SharePoint 2010 Development for Office 365 from Apress aims to help .NET and ASP.NET developers who are beginners in their knowledge of both SharePoint and Office 365, but who now need to customize the cloud-based suite.
The book provides a clear if restricted introduction to this, though anyone with SharePoint experience would find it of limited use and therefore we gate it a rating of just 3.5.
The authors, Bart McDonough, Dave Milner and Paul Stork, start with an intro to Office 365 and SharePoint Online, then discuss the three ways to customize SharePoint online - through the browser, using Visual Studio, and using client-side coding with SharePoint Designer. There's a chapter on using InfoPath for creating forms for displaying data, and another on Visual Studio development – just the one. SharePoint Designer Workflows , and in particular how you can now create them in Designer 2010, are covered, along with integrating with Visio. Client side development has coverage of using REST-ful services and using the ASP.NET web services, development with Silverlight, jQuery, HTML5, and CSS3. We
Tips and techniques
SharePoint 2010 at Work published by O'Reilly is actually a compilation of articles based on material developed on NothingButSharePoint, a community website where users share their techniques for getting the best out of SharePoint. There are eleven chapters, each covering a different aspect of making clever use of SharePoint, and as they are written by eleven different authors, the readability and usefulness varies. However, overall there's enough interesting stuff in this book to make it a worthwhile read and we gave it a rating of 3 out of 5.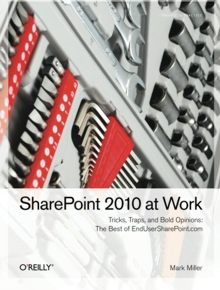 Some of the chapters look at very specific features of SharePoint, others are more general. Among the more useful for developers are those on JQuery and how to use it to manipulate the DOM of SharePoint web pages, and on the difference between the Data View and XSLT List View web parts, and how you customize hyperlinks in each case. Another shows how to make use of SharePoint's JavaScript Object Model (JSOM) to create a dynamic 'quote of the day' web part, while another shows how to create dynamic charts based on Google's Visualization API. This is a useful book, and includes some interesting ideas on how to work around some of SharePoint's annoyances.
Phil Wicklund's SharePoint 2010 Workflows in Action published by Manning is a good introduction to the various ways you can customise SharePoint to be more than just static webpages and we gave it a rating of 4.
Having introduced SharePoint workflows and explained why they're useful, the book shows how to use SharePoint Designer to create workflows. This browser-based interface has pre-defined actions that you can use for task management, and you can also create custom task processes to handle more complex tasks where you want to update the status, reassign it to another user, or have it expire. The latter half of the book moves on to what is probably the heart of the topic - custom Visual Studio workflows. We thought that the main problem with this book is that it tries to cover a lot of ground and a number of levels of complexity. However, if you know how to program, you can use the more basic descriptions to find your way around SharePoint and the different environments you can work in, and looked at from this end, it gives a useful introduction.
Business Intelligence in SharePoint
Business Intelligence in Microsoft SharePoint 2010 from Microsoft Press is based on the idea that SharePoint 2010 has some rather neat BI facilities, and the authors concentrate on the practicalities of BI. There are short summaries of the various options for BI work - SQL Server Reporting Services in SharePoint, PerformancePoint Services, the Excel 2010 PowerPivot add-in, Excel Services, and so on, followed by detailed looks at the BI services in SharePoint and how to use them.
Awarding the book a rating of 4.5, our review describes it as readable, understandable, useful, and a good book for a SharePoint administrator to read to understand what's going on. It would also be a useful introduction to a developer who needs to know how things fit together in SharePoint and just which bit they should be using and how. The one caveat is that for developers the book doesn't go far enough into sample systems and code.
Generally a new edition of a book is a step forward. However, we felt Business Intelligence in Microsoft SharePoint 2013 was an exception to the rule - even though it added useful new material, for example a section on Power View is another Excel 2013 option that lets users view data graphically. The resason for downgrading its rating to 4 was because of its production and applies only to the print version where the the screenshots are in tones of grey. The effect is that achieved when your printer cartridge is about to stop working. Our advice would be go for the Kindle edition if you're planning to buy this edition.
SharePoint in the cloud
Finally, Pro SharePoint 2013 App Development in the Apress Expert Voice In SharePoint series, which also merited a rating of 4.5, is aimed at creating SharePoint apps for the cloud, making use of the new cloud app model in SharePoint 2013 Server and SharePoint Online that lets you create apps that run in the cloud rather than on the local server.
Author Steve Wright you step by step through the process of creating such an app. There's good coverage of using JQuery for client-side logic, app security, and web services with REST and OData and you are shown how to build the middle tier of your application with down-to-earth descriptions of workflows and how to code. We considered this is a good read, with plenty of code and exercises to work through.
Also on Programmer's Bookshelf
Pick of the Shelf - SQL Server 2012
MySQL and MariaDB Database Books
---
Software Mistakes and Tradeoffs (Manning)
Author: Tomasz Lelek and Jon Skeet
Publisher: Manning
Date: June 2022
Pages: 426
ISBN: 978-1617299209
Print: 1617299200
Audience: C# developers
Rating: 4
Reviewer: Mike James
We all make mistakes - do you want to read about them?
---
Query Store for SQL Server 2019 (Apress)
Author: Tracy Boggiano & Grant Fritchey
Publisher: Apress
Pages: 234
ISBN: 978-1484250037
Print: 1484250036
Kindle: B07YNL3X4X
Audience: SQL Server DBAs and Devs
Rating: 4
Reviewer: Ian Stirk
This book aims to use Query Store to improve your SQL Server queries, how does it fare?
More Reviews
Follow @bookwatchiprog on Twitter or subscribe to I Programmer's Books RSS feed for our new reviews and for each day's new addition to Book Watch and visit Book Watch Archive for hundreds more titles.
You can also follow us on Google+, Linkedin or Facebook or sign up for our weekly newsletter.
<ASIN:1430241829>
<ASIN:1449321003>
<ASIN:1935182714>
<ASIN:0321769597>
<ASIN:0735643407>
<ASIN:0735675430>
<ASIN:1430258845>
Last Updated ( Thursday, 23 January 2014 )