Tuesday, 06 March 2018
This is the third edition of Murach's guide to the skills you need to develop database-driven websites using PHP and MySQL. Joel Murach shows how to use the latest versions of PHP, MySQL (or MariaDB), and the Apache web server to build PHP applications. This edition covers PHP 7 enhancements like scalar data type declarations and improved error handling, as well as new operators and functions.
<ASIN:1943872384>
Author: Joel Murach
Publisher: Murach
Date: Oct 2017
Pages: 866
ISBN: 978-1943872381
Print: 1943872384
Audience: developers wanting to learn PHP and MySQL
Level: Intermediate
Category: PHP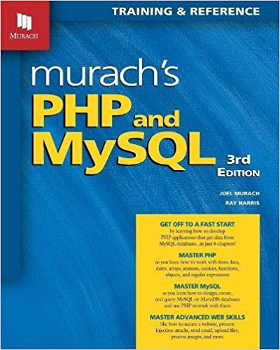 For more Book Watch just click.
Book Watch is I Programmer's listing of new books and is compiled using publishers' publicity material. It is not to be read as a review where we provide an independent assessment. Some, but by no means all, of the books in Book Watch are eventually reviewed.
To have new titles included in Book Watch contact BookWatch@i-programmer.info
Follow @bookwatchiprog on Twitter or subscribe to I Programmer's Books RSS feed for each day's new addition to Book Watch and for new reviews.
---
Cool Scratch Projects
Author: Sean McManus
Publisher: In Easy Steps
Pages: 397
ISBN: 978-1840787146
Print: 1840787147
Kindle: B01K8EFUL6
Audience: Kids aged 12 and up
Rating: 5
Reviewer: Harry Fairhead
Scratch - an easy language to learn but what do you do next?
---
Introducing Python
Author: Bill Lubanovic
Publisher: O'Reilly, 2014
Pages: 478
ISBN: 9781449359362
Print: 1449359361
Kindle: B00PHTRLO2
Audience: Not beginners
Rating: 4
Reviewer: Mike James
Python is a popular first language and it is used by many first courses in programming. An Int [ ... ]
More Reviews