Tuesday, 06 March 2018
This is the third edition of Murach's guide to the skills you need to develop database-driven websites using PHP and MySQL. Joel Murach shows how to use the latest versions of PHP, MySQL (or MariaDB), and the Apache web server to build PHP applications. This edition covers PHP 7 enhancements like scalar data type declarations and improved error handling, as well as new operators and functions.
<ASIN:1943872384>
Author: Joel Murach
Publisher: Murach
Date: Oct 2017
Pages: 866
ISBN: 978-1943872381
Print: 1943872384
Audience: developers wanting to learn PHP and MySQL
Level: Intermediate
Category: PHP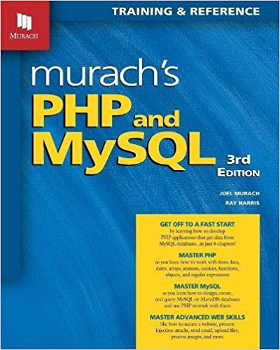 For more Book Watch just click.
Book Watch is I Programmer's listing of new books and is compiled using publishers' publicity material. It is not to be read as a review where we provide an independent assessment. Some, but by no means all, of the books in Book Watch are eventually reviewed.
To have new titles included in Book Watch contact BookWatch@i-programmer.info
Follow @bookwatchiprog on Twitter or subscribe to I Programmer's Books RSS feed for each day's new addition to Book Watch and for new reviews.
---
Clojure Recipes
Author: Julian Gamble
Publisher: Addison-Wesley
Pages: 288
ISBN: 978-0321927736
Print: 0321927737
Kindle:B016QDCNRC
Audience: Clojure programmers
Rating: 4
Reviewer: Alex Artmstrong
A cookbook for a difficult language like Clojure - can that work?
---
Designing with Data, 2nd Edition
Author: Rochelle King, Elizabeth F Churchill, and Caitlin Tan
Publisher: O'Reilly
Pages: 370
ISBN: 978-1449334833
Print: 1449334830
Kindle: B06XY9TTN8
Audience: Data developers
Rating: 4
Reviewer: Kay Ewbank
This book looks at how you can use data-driven A/B testing for making design d [ ... ]
More Reviews