Wednesday, 15 August 2018
This book is an example-rich guide that teaches you how to implement reactive design solutions in your machine learning systems to make them as reliable as a well-built web app. Author Jeff Smith shows the principles of reactive design with examples including pipelines with Spark, highly scalable services with Akka, and how to use machine learning libraries like MLib on massive datasets. The examples use the Scala language, but the same ideas and tools work in Java, as well. The book is aimed at developers building production-grade ML applications that need quick response times, reliability, and good user experience.
<ASIN:1617293334>
Author: Jeff Smith
Publisher: Manning
Date: July 2018
Pages: 224
ISBN: 978-1617293337
Print: 1617293334
Audience: Developers of machine learning systems
Level: Intermediate
Category: Artificial Intelligence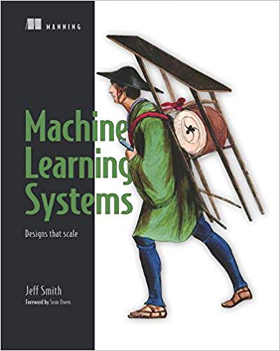 Working with Spark, MLlib, and Akka
Reactive design patterns
Monitoring and maintaining a large-scale system
Futures, actors, and supervision
.
For more Book Watch just click.
Book Watch is I Programmer's listing of new books and is compiled using publishers' publicity material. It is not to be read as a review where we provide an independent assessment. Some, but by no means all, of the books in Book Watch are eventually reviewed.
To have new titles included in Book Watch contact BookWatch@i-programmer.info
Follow @bookwatchiprog on Twitter or subscribe to I Programmer's Books RSS feed for each day's new addition to Book Watch and for new reviews.
---
Microsoft SQL Server 2017 On Linux
Author: Benjamin Nevarez
Publisher: McGraw-Hill
Pages: 340
ISBN: 978-1260121131
Print: 1260121135
Kindle: B07DCH314W
Audience: SQL Server administrators and developers
Rating: 4.5
Reviewer: Kay Ewbank
The very fact this book exists would have been unthinkable a few years ago; SQL Server on Lin [ ... ]
---
The Dream Team Nightmare
Author: Portia Tung
Publisher: Pragmatic Bookshelf, 2013
Pages: 304
ISBN: 978-1937785718
Print: 1937785718
Kindle: B00I9GR4UQ
Audience: Anyone who has worked on an agile project or is thinking about trying it
Rating: 4
Reviewer: Lucy Black
A novel approach to teaching lessons about using Agile techn [ ... ]
More Reviews