Wednesday, 17 October 2018
This is written as a no-nonsense tutorial and reference for experienced programmers who want to write robust Java code for real-world applications, and this eleventh edition has been updated to reflect Java SE 9. Author Cay S. Horstmann covers advanced user-interface programming and the enterprise features of the Java SE 9 platform. The book covers the most important language and library features and shows how to build real-world applications with thoroughly tested examples.
<ASIN:0135166314>
Author: Cay S. Horstmann
Publisher: Prentice Hall
Date: September 2018
Pages: 1040
ISBN: 978-0135166314
Print: 0135166314
Audience: Java Developers
Level: Advanced
Category: Java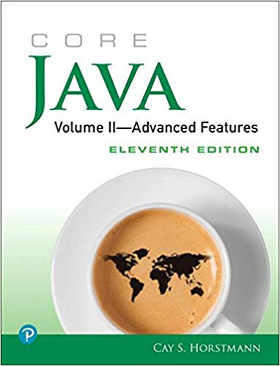 Related Reviews
Core Java, Volume II Advanced Features 9th Ed
For more Book Watch just click.
Book Watch is I Programmer's listing of new books and is compiled using publishers' publicity material. It is not to be read as a review where we provide an independent assessment. Some, but by no means all, of the books in Book Watch are eventually reviewed.
To have new titles included in Book Watch contact BookWatch@i-programmer.info
Follow @bookwatchiprog on Twitter or subscribe to I Programmer's Books RSS feed for each day's new addition to Book Watch and for new reviews.
---
Deep Learning Illustrated
Authors: Jon Krohn, Grant Beyleveld and Aglaé Bassens
Publisher: Addison-Wesley
Date: September 2019
Pages: 416
ISBN: 978-0135116692
Print: 0135116694
Kindle: B07W585JGG
Audience: Python developers interested in deep learning techniques
Rating: 3.5
Reviewer: Mike James
A picture is worth a thousand word [ ... ]
---
Android Security Internals
Author: Nikolay Elenkov
Publisher: No Starch Press
Pages: 432
ISBN: 9781593275815
Print: 1593275811
Kindle: B00P8DRZWA
Audience: Competent Android developers
Rating: 5
Reviewer: Mike James
We need to know about Android security - but a whole book dedicated to it? Can this be a go [ ... ]
More Reviews