Monday, 26 November 2018
In this new edition, author V. Scott Gordon provides step-by-step instruction on modern 3D graphics shader programming in OpenGL, along with its theoretical foundations. It has been designed in a four-color, "teach-yourself" format with numerous examples that the reader can run just as presented.New sections have been added covering soft shadows, performance optimization, Nsight debugging, as well as updated industry-standard libraries and steps for running the examples on a Macintosh.
<ASIN:1683922190>
Author: V. Scott Gordon
Publisher: Mercury Learning
Date: September 2018
Pages: 406
ISBN: 978-1683922193
Print: 1683922190
Audience: Java developers interested in 3D graphics
Level: Intermediate
Category: Graphics & Games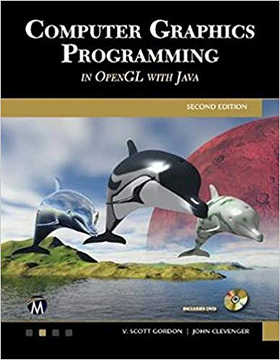 Includes new sections on implementing soft shadows, performance optimization, and updated tools such as the JOML math library and the NVIDIA Nsight debugger.
Covers modern OpenGL 4.0+ shader programming in Java/JOGL, with instructions for both PC/Windows and Macintosh.
Includes step-by-step instruction for every GLSL programmable pipeline stage (vertex, tessellation, geometry, and fragment).
For more Book Watch just click.
Book Watch is I Programmer's listing of new books and is compiled using publishers' publicity material. It is not to be read as a review where we provide an independent assessment. Some, but by no means all, of the books in Book Watch are eventually reviewed.
To have new titles included in Book Watch contact BookWatch@i-programmer.info
Follow @bookwatchiprog on Twitter or subscribe to I Programmer's Books RSS feed for each day's new addition to Book Watch and for new reviews.
---
SQL Server 2017 Administrators Guide
Author: Marek Chmel & Vladimir Muzny
Publisher: Packt
Pages: 434
ISBN: 978-1786462541
Print: 1786462540
Kindle: B075V9LQ97
Audience: DBAs and curious devs
Rating: 1.0
Reviewer: Ian Stirk
This book aims to give you the skills to set up, administer, and maintain SQL Server 2017 databases [ ... ]
---
Practical Binary Analysis
Author: Dennis Andriesse
Publisher: No Starch Press
Pages: 456
ISBN: 978-1593279127
Print: 1593279124
Kindle: B07BPKWJVT
Audience: Security engineers, hackers, and those with a basic working knowledge of C and x86-64.
Rating: 5
Reviewer: Harry Fairhead
What is binary analysis? Dividing things into two [ ... ]
More Reviews