Monday, 04 February 2019
This book covers the basic game development process using Python, covering game topics including graphics, sound, artificial intelligence, animation, game engines, etc. Author James R. Parker creates real games as you work through the text and significant parts of a game engine are built and made available for download. The companion disc contains all of the resources described in the book, e.g. example code, game assets, video/sound editing software, and color figures.
<ASIN:1683921801>
Author: James R. Parker
Publisher: Mercury Learning
Date: January 2019
Pages: 500
ISBN: 978-1683921806
Print: 1683921801
Audience: Python developers
Level: Intermediate
Category: Graphics & Games / Python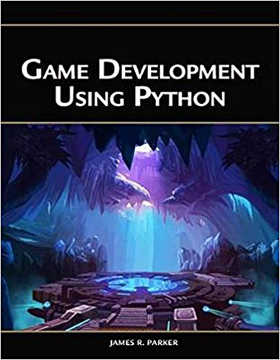 Teaches basic game development concepts using Python including graphics, sound, artificial intelligence, animation, game engines, collision detection, Web-based games, and more
Includes a companion disc with example code, games assets, and color figures
For recommendations of Python books see Books for Pythonistas and Python Books For Beginners in our Programmer's Bookshelf section.
For more Book Watch just click.
Book Watch is I Programmer's listing of new books and is compiled using publishers' publicity material. It is not to be read as a review where we provide an independent assessment. Some, but by no means all, of the books in Book Watch are eventually reviewed.
To have new titles included in Book Watch contact BookWatch@i-programmer.info
Follow @bookwatchiprog on Twitter or subscribe to I Programmer's Books RSS feed for each day's new addition to Book Watch and for new reviews.
---
Next Generation Databases: NoSQL, NewSQL, and Big Data
Author: Guy Harrison
Publisher: Apress
Date: December 30, 2015
Pages: 260
ISBN: 978-1484213308
Print: 1484213300
Kindle: B015PQPALM
Audience: Architects, DBAs, and Devs
Rating: 4.6
Reviewer: Ian Stirk
To mark the beginning of the New Year we are republishing our most popular book review of 2 [ ... ]
---
Risk-First Software Development: The Menagerie
Author: Rob Moffat
Publisher: CreateSpace
Pages: 248
ISBN: 978-1717491855
Print: 1717491855
Kindle: B07MK9LTHN
Audience: Those working on software projects at intermediate level
Rating: 4
Reviewer: Nikos Vaggalis


This first volume of the Risk-First series, looks at managing software project [ ... ]
More Reviews