Friday, 01 March 2019
This book shows how Docker lets you run applications at scale, adding new resources as needed. It gives you a solid foundation on using Docker and fitting it into your development workflow and deployment process. Author Rob Isenberg shows how to use Docker to help build, ship, and run your Ruby and Rails applications, solving major problems you face every day.
<ASIN:1680502735>
Author: Rob Isenberg
Publisher: Pragmatic Bookshelf
Date: February 2019
Pages: 240
ISBN: 978-1680502732
Print: 1680502735
Audience: Ruby and Rails developers
Level: Intermediate
Category: Ruby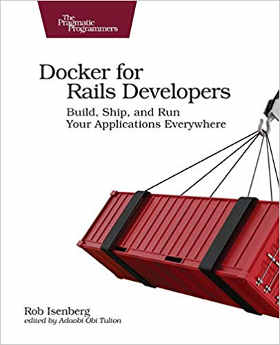 For more Book Watch just click.
Book Watch is I Programmer's listing of new books and is compiled using publishers' publicity material. It is not to be read as a review where we provide an independent assessment. Some, but by no means all, of the books in Book Watch are eventually reviewed.
To have new titles included in Book Watch contact BookWatch@i-programmer.info
Follow @bookwatchiprog on Twitter or subscribe to I Programmer's Books RSS feed for each day's new addition to Book Watch and for new reviews.
---
Effective Java 3e
Author: Joshua Bloch
Publisher: Addison Wesley, 2018
Pages: 412
ISBN: 978-0134685991
Print: 0134685997
Kindle: B078H61SCH
Audience: Existing Java programmers
Rating: 5
Reviewer: Alex Armstrong
A third edition of a classic on Java - what could go wrong?
---
Raspberry Pi Hacks
Author: Ruth Suehle & Tom Callaway
Publisher: O'Reilly
Pages: 364
ISBN: 9781449362348
Print: 1449362346
Kindle: B00KBAS0CE
Audience: Pi enthusiasts, but not beginners
Rating: 5
Reviewer: Harry Fairhead
A total of 65 Raspberry Pi hacks - surely they have all been done before? Well yes, [ ... ]
More Reviews