Tuesday, 23 April 2019
This hands-on guide shows how to build high-quality cross-platform mobile and web apps. Author Nader Dabit jumps right into building a complete app with the help of clear, easy-to-follow instructions before moving on to more-advanced topics like styling, APIs, animations, and data architecture. The book also shows how to maximize code reuse without sacrificing native platform look-and-feel. Purchase of the print book includes a free eBook in PDF, Kindle, and ePub formats.
<ASIN:1617294055>
Author: Nader Dabit
Publisher: Manning Publications
Date: April 2019
Pages: 320
ISBN: 978-1617294051
Print: 1617294055
Audience: Developers wanting to use React
Level: Intermediate
Category: Phone/mobile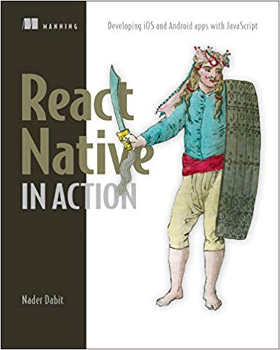 For more Book Watch just click.
Book Watch is I Programmer's listing of new books and is compiled using publishers' publicity material. It is not to be read as a review where we provide an independent assessment. Some, but by no means all, of the books in Book Watch are eventually reviewed.
To have new titles included in Book Watch contact BookWatch@i-programmer.info
Follow @bookwatchiprog on Twitter or subscribe to I Programmer's Books RSS feed for each day's new addition to Book Watch and for new reviews.
---
Programming Rust
Author: Jim Blandy and Jason Orendorff
Publisher: O'Reilly
Date: Aug 2016
Pages: 400
ISBN: 978-1491927281
Print: 1491927283
Kindle: B077NSY211
Audience: Systems programmers
Rating: 4
Reviewer: Mike James
Rust - it's a hit language of the moment. The language we all love to love. So what could be bet [ ... ]
---
Learning Regular Expressions
Author: Ben Forta
Publisher: Addison-Wesley Professional
Pages: 144
ISBN: 978-0134757063
Print: 0134757068
Kindle: B07CGNFKQ4
Audience: The innocent programmer
Rating: 4.5
Reviewer: Mike James
A book on regular expressions without saying in what language. How can that work?
More Reviews