Friday, 07 June 2019
This full-color book written to appeal to those aged 8 years and up, demonstrates coding for web pages in clear examples. It begins by explaining how to make and test a basic web page, then demonstrates how to add text, pictures, links, tables, lists, and buttons to a web page. Author Mike McGrath then goes on to how to specify content color, font, position, and visibility.
<ASIN:1840788399>
Having shown how to add functionality so that web pages can react to user actions, the final chapter brings everything together with a step-by-step example that builds a fun web page containing an interactive game for PC, tablet, or smartphone.
Author: Mike McGrath
Publisher: In Easy Steps
Date: February 2019
Pages: 192
ISBN: 978-1840788396
Print: 1840788399
Kindle: B07NVQXYCG
Audience: Kids wanting to code
Level: Introductory
Category: Web design and development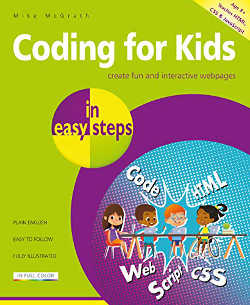 For more Book Watch just click.
Book Watch is I Programmer's listing of new books and is compiled using publishers' publicity material. It is not to be read as a review where we provide an independent assessment. Some, but by no means all, of the books in Book Watch are eventually reviewed.
To have new titles included in Book Watch contact BookWatch@i-programmer.info
Follow @bookwatchiprog on Twitter or subscribe to I Programmer's Books RSS feed for each day's new addition to Book Watch and for new reviews.
---
Advanced Deep Learning with Keras
Author: Rowel Atienza
Publisher: Packt Publishing
Pages: 368
ISBN: 978-1788629416
Print: 1788629418
Kindle: B078N8RDCP
Audience: Developers using Keras
Rating: 4.5
Reviewer: Mike James
There's a shortage of books on AI with "advanced" in the title, so how does this one live up to its claim?
---
Seven Languages in Seven Weeks
Author: Bruce Tate
Publisher: Pragmatic Bookshelf, 2010
Pages: 300
ISBN: 978-1934356593
Print: 193435659X
Kindle: B00AYQNR46
Audience: Language enthusiasts
Rating: 4
Reviewed by: Mike James
As the original title in the now familiar Seven ... In Seven Weeks series, this book was obviously [ ... ]
More Reviews