Monday, 13 April 2020
The book presents fundamentals, data, statement structures, control structures, function writing and bugging of MATLAT programming. Author Dingyu Xue then presents algebraic computation, transcendental function evaluations and data processing. Advanced topics such as MATLAB interface design, object-oriented programming and graphical user interface design are also addressed. As its subtitle, Mathematical Problem Solutions suggests, this is a textbook and it originated at Tsinghua University, a major research university in Beijing.
<ASIN:3110663562>
Author: Dingyu Xue
Publisher: De Gruyter
Date: March 2020
Pages: 265
ISBN: 978-3110663563
Print: 3110663562
Audience: Matlab programmers
Level: Intermediate/Advanced
Category: Mathematics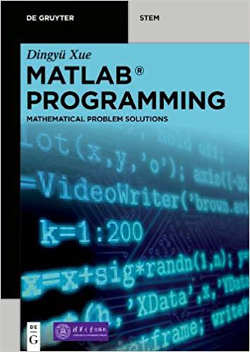 For more Book Watch just click.
Book Watch is I Programmer's listing of new books and is compiled using publishers' publicity material. It is not to be read as a review where we provide an independent assessment. Some, but by no means all, of the books in Book Watch are eventually reviewed.
To have new titles included in Book Watch contact BookWatch@i-programmer.info
Follow @bookwatchiprog on Twitter or subscribe to I Programmer's Books RSS feed for each day's new addition to Book Watch and for new reviews.
---
Cracking Codes with Python
Author: Al Sweigart
Publisher: No Starch Press
Date: Jan 2018
Pages: 416
ISBN: 978-1593278229
Print: 1593278225
Kindle: B0713P1Q8X
Audience: Would-be Python programmers
Rating: 4
Reviewer: Mike James
Cracking codes in Python - exciting!
---
Modern Mathematics and Applications in Computer Graphics and Vision
Author: Hongyu Guo
Publisher: World Scientific
Pages: 500
ISBN: 978-9814449328
Print: 9814449334
Kindle: B00KF43NF0
Audience: Competent mathematicians interested in computer graphics.
Rating: 4.5
Reviewer: Mike James
Math is the foundation of computer graphics and vision so this book seems [ ... ]
More Reviews