Wednesday, 15 July 2020
In this updated edition of a well known book, author Michael Hartl teaches Rails through the development of three example applications of increasing sophistication. The tutorial's examples focus on the general principles of web development needed for virtually any kind of website. The updates to this edition include full compatibility with Rails 6. The book provides integrated tutorials not only for Rails, but also for the essential Ruby, HTML, CSS, and SQL skills you need when developing web applications.
<ASIN:0136702651>
Author: Michael Hartl
Publisher: Addison-Wesley Professional
Date: July 2020
Pages: 848
ISBN: 978-0136702658
Print: 0136702651
Audience: Ruby developers
Level: Intermediate
Category: Ruby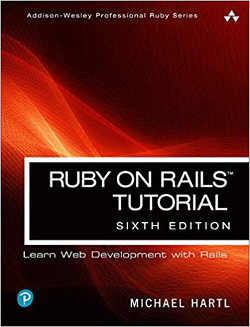 Install and set up your Rails development environment, including a pre-installed integrated development environment (IDE) in the cloud
Go beyond generated code to truly understand how to build Rails applications from scratch
Learn testing and test-driven development (TDD)
Effectively use the Model-View-Controller (MVC) pattern
Structure applications using the REST architecture
Build static pages and transform them into dynamic ones
Master the Ruby programming skills all Rails developers need
Create high-quality site layouts and data models
Implement registration and authentication systems, including validation and secure passwords
Update, display, and delete users
Upload images in production using a cloud storage service
Implement account activation and password reset, including sending email with Rails
Add social features and microblogging, including an introduction to Ajax
Record version changes with Git and create a secure remote repository at GitHub
Deploy your applications early and often with Heroku
Related Reviews
For recommendations of Ruby books see Gems Among Ruby Books in our Programmer's Bookshelf section.
For more Book Watch just click.
Book Watch is I Programmer's listing of new books and is compiled using publishers' publicity material. It is not to be read as a review where we provide an independent assessment. Some, but by no means all, of the books in Book Watch are eventually reviewed.
To have new titles included in Book Watch contact BookWatch@i-programmer.info
Follow @bookwatchiprog on Twitter or subscribe to I Programmer's Books RSS feed for each day's new addition to Book Watch and for new reviews.
---
High Performance SQL Server, 2nd Ed (Apress)
Author: Benjamin Nevarez
Publisher: Apress
Pages: 420
ISBN: 978-1484264904
Print: 1484264908
Kindle: B08TQR3NMF
Audience: SQL Server DBAs and Devs
Rating: 4.5
Reviewer: Ian Stirk
This book aims to improve the performance of your SQL Server, how does it fare?
---
Python All-in-One, 2nd Ed (For Dummies)
Authors: John Shovic and Alan Simpson
Publisher: For Dummies
Date: April 2021
Pages: 720
ISBN: 978-1119787600
Print: 1119787602
Kindle: B091DGDLK8
Audience: People wanting to learn Python
Rating: 2
Reviewer: Mike James
All-in-one refers to the fact that this is seven books put together - why?
More Reviews