Friday, 31 July 2020
With the subtitle "Silicon Valley and the Remaking of America", Margaret O'Mara has written a history for our time. It is a story of mavericks and visionaries, but also of powerful institutions creating the framework for innovation, from the Pentagon to Stanford University. It is also a story of a community that started off remarkably homogeneous and tight-knit and stayed that way, and whose belief in its own mythology has deepened into a collective hubris that has led to astonishing triumphs as well as devastating second-order effects.
<ASIN:0399562206>
Author: Margaret O'Mara
Publisher: Penguin Books
Date: July 2020
Pages: 512
ISBN: 978-0399562204
Print: 0399562206
Audience: People interested in computer politics
Level: Introductory
Category: General interest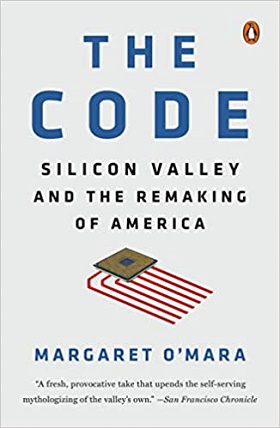 For more Book Watch just click.
Book Watch is I Programmer's listing of new books and is compiled using publishers' publicity material. It is not to be read as a review where we provide an independent assessment. Some, but by no means all, of the books in Book Watch are eventually reviewed.
To have new titles included in Book Watch contact BookWatch@i-programmer.info
Follow @bookwatchiprog on Twitter or subscribe to I Programmer's Books RSS feed for each day's new addition to Book Watch and for new reviews.
---
Programming with MicroPython
Author: Nicholas H. Tollervey
Publisher: O'Reilly
Pages:206
ISBN: 978-1491972731
Print: 1491972734
Kindle:B075X49VVH
Audience: Python developers
Rating: 2
Reviewer: Harry Fairhead
Micropython seems to be eating the microcontroller world and learning it seems like a good idea.
---
Arduino Programming in 24 Hours
Author: Richard Blum
Publisher: Sams
Pages: 432
ISBN: 9780672337123
Print: 0672337126
Kindle: B00MNJ7PEK
Audience: D-I-Y enthusiasts with some programming background
Rating: 4
Reviewer: Harry Fairhead
There are lots of books on the Arduino - what makes this one worth your attention?
More Reviews