Friday, 31 July 2020
With the subtitle "Silicon Valley and the Remaking of America", Margaret O'Mara has written a history for our time. It is a story of mavericks and visionaries, but also of powerful institutions creating the framework for innovation, from the Pentagon to Stanford University. It is also a story of a community that started off remarkably homogeneous and tight-knit and stayed that way, and whose belief in its own mythology has deepened into a collective hubris that has led to astonishing triumphs as well as devastating second-order effects.
<ASIN:0399562206>
Author: Margaret O'Mara
Publisher: Penguin Books
Date: July 2020
Pages: 512
ISBN: 978-0399562204
Print: 0399562206
Audience: People interested in computer politics
Level: Introductory
Category: General interest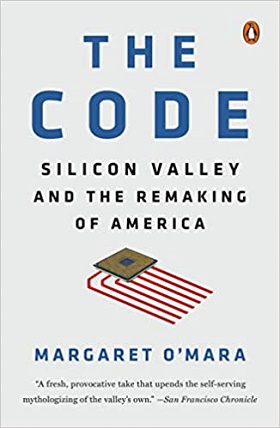 For more Book Watch just click.
Book Watch is I Programmer's listing of new books and is compiled using publishers' publicity material. It is not to be read as a review where we provide an independent assessment. Some, but by no means all, of the books in Book Watch are eventually reviewed.
To have new titles included in Book Watch contact BookWatch@i-programmer.info
Follow @bookwatchiprog on Twitter or subscribe to I Programmer's Books RSS feed for each day's new addition to Book Watch and for new reviews.
---
Microsoft SQL Server 2017 On Linux
Author: Benjamin Nevarez
Publisher: McGraw-Hill
Pages: 340
ISBN: 978-1260121131
Print: 1260121135
Kindle: B07DCH314W
Audience: SQL Server administrators and developers
Rating: 4.5
Reviewer: Kay Ewbank
The very fact this book exists would have been unthinkable a few years ago; SQL Server on Lin [ ... ]
---
Clojure Recipes
Author: Julian Gamble
Publisher: Addison-Wesley
Pages: 288
ISBN: 978-0321927736
Print: 0321927737
Kindle:B016QDCNRC
Audience: Clojure programmers
Rating: 4
Reviewer: Alex Artmstrong
A cookbook for a difficult language like Clojure - can that work?
More Reviews