Wednesday, 26 August 2020
This book shows how to use PyTorch for deep learning projects. Authors.Eli Stevens, Luca Antiga and Thomas Viehmann show how to create neural networks and deep learning systems with PyTorch. This practical book quickly gets you to work building a real-world example from scratch: a tumor image classifier. Along the way, it covers best practices for the entire DL pipeline, including the PyTorch Tensor API, loading data in Python, monitoring training, and visualizing results. After covering the basics, the book moves on to larger projects, and the centerpiece of the book is a neural network designed for cancer detection.
<ASIN:1617295264>
Author: Eli Stevens, Luca Antiga and Thomas Viehmann
Publisher: Manning
Date: August 2020
Pages: 520
ISBN: 978-617295263
Print: 1617295264
Audience: Python developers
Level: Intermediate
Category: Python and Artificial Intelligence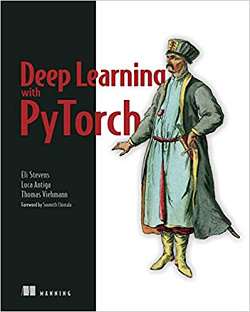 Training deep neural networks
Implementing modules and loss functions
Utilizing pretrained models from PyTorch Hub
Exploring code samples in Jupyter Notebooks
For recommendations of Python books see Books for Pythonistas and Python Books For Beginners in our Programmer's Bookshelf section.
For more Book Watch just click.
Book Watch is I Programmer's listing of new books and is compiled using publishers' publicity material. It is not to be read as a review where we provide an independent assessment. Some, but by no means all, of the books in Book Watch are eventually reviewed.
To have new titles included in Book Watch contact BookWatch@i-programmer.info
Follow @bookwatchiprog on Twitter or subscribe to I Programmer's Books RSS feed for each day's new addition to Book Watch and for new reviews.
---
Expert SQL Server In-Memory OLTP (2nd Ed)
Author: Dmitri Korotkevitch
Publisher: Apress
Pages: 304
ISBN: 978-1484227718
Print: 1484227719
Kindle:B075D4ZNWG
Audience: DBAs, Devs, Architects
Rating: 5.0
Reviewer: Ian Stirk
This book aims to explain SQL Server 2016 In-Memory OLTP, which can dramatically improve performance, how does [ ... ]
---
Regular Expressions: Pocket Primer
Author: Oswald Campesato
Publisher: Mercury Learning & Information
Date: July 2018
Pages: 190
ISBN: 978-1683922278
Print: 1683922271
Kindle: B07FK4NHWQ
Audience: Those who want to understand regexes
Rating: 3
Reviewer: Alex Armstrong
Regular expressions are tough to remember so a pocket primer sounds [ ... ]
More Reviews