Wednesday, 14 April 2021
Fully updated to ASP.NET 5.0, this is a hands-on primer to building cross-platform web applications with C# and .NET skills. Andrew Lock goes from basic HTTP concepts to advanced framework customization. This updated edition covers the latest features, including Razor Pages and the new hosting paradigm.
<ASIN:1617298301>
Author: Andrew Lock
Publisher: Manning
Date:April 2021
Pages: 832
ISBN: 978-1617298301
Print: 1617298301
Audience: Developers interested in ASP.NET
Level: Intermediate
Category: ASP.NET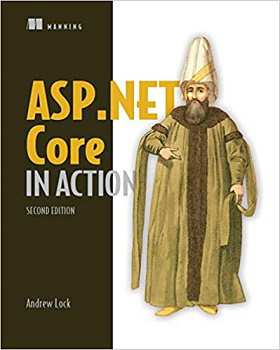 Developing apps for Windows and non-Windows servers
Configuring applications
Building custom components
Logging, testing, and security
For more Book Watch just click.
Book Watch is I Programmer's listing of new books and is compiled using publishers' publicity material. It is not to be read as a review where we provide an independent assessment. Some, but by no means all, of the books in Book Watch are eventually reviewed.
To have new titles included in Book Watch contact BookWatch@i-programmer.info
Follow @bookwatchiprog on Twitter or subscribe to I Programmer's Books RSS feed for each day's new addition to Book Watch and for new reviews.
---
Refactoring JavaScript
Author: Evan Burchard
Publisher: O'Reilly
Date: March 2017
Pages: 422
ISBN: 978-1491964927
Print: 1491964928
Kindle: B06XK1V629
Audience: JavaScript programmers
Rating: 3
Reviewer: Ian Elliot
There is a lot of JavaScript out there that needs refactoring - can this book help?
---
Python Machine Learning, 2nd Ed
Author: Sebastian Raschka and Vahid Mirjalili
Publisher: Packt
Pages: 622
ISBN: 978-1787125933
Print: 1787125939
Kindle: B0742K7HYF
Audience: Python developers interested in machine learning
Rating: 4.8
Reviewer: Mike James
Python and machine learning are made for each other.
More Reviews