Monday, 17 May 2021
This book is aimed at people who want to learn how to program but don't know where to start. Joel Murach takes a self-paced approach designed to help build competence and confidence in the reader's programming skills. The book begins with an 8-chapter course that will get anyone off to a great start with Python, and also looks at object-oriented programming, and how to build database and GUI programs for the real world.
<ASIN:1943872740>
Author: Joel Murach
Publisher: Mike Murach & Associates
Date: May 2021
Pages: 564
ISBN: 978-1943872749
Print: 1943872740
Audience: People wanting to learn Python
Level: Introductory/Intermediate
Category: Python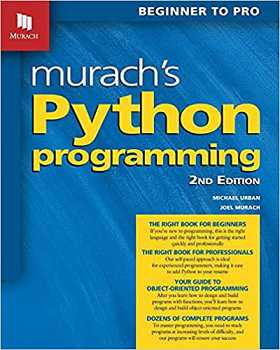 For more Book Watch just click.
Book Watch is I Programmer's listing of new books and is compiled using publishers' publicity material. It is not to be read as a review where we provide an independent assessment. Some, but by no means all, of the books in Book Watch are eventually reviewed.
To have new titles included in Book Watch contact BookWatch@i-programmer.info
Follow @bookwatchiprog on Twitter or subscribe to I Programmer's Books RSS feed for each day's new addition to Book Watch and for new reviews.
---
Power-Up: Unlocking the Hidden Mathematics in Video Games
Author: Matthew Lane
Publisher: Princeton University Press
Date: May 2017
Pages: 264
ISBN: 978-0691161518
Print: 0691161518
Kindle: B01MTOHSXZ
Audience: Developers
Rating: 3.5
Reviewer: Mike James
Math via games - great idea? But how well does it work?
---
Programming for the Puzzled
Author: Srini Devadas
Publisher: MIT Press
Date: Nov 2017
Pages: 272
ISBN: 978-0262534307
Print: 0262534304
Kindle: B077GLCR99
Audience:Python Programmers
Rating: 5 (but see conclusion)
Reviewer: Mike James
Some of us are puzzled some of the time - can you learn Python this way?
More Reviews