Monday, 12 September 2022
This book shows how to use PHP and MySQL for web apps, the way the pros do. Joel Murach shows how to create a database-driven website that implements the MVC pattern in the first six chapters. The rest of the book shows you how to build out your PHP and MySQL skills to the professional level, using today's best practices.
<ASIN:1943873003>
Author: Joel Murach
Publisher: Murach
Date: August 2022
Pages: 848
ISBN: 978-1943873005
Print: 1943873003
Audience: database developers
Level: Introductory/Intermediate
Category: Web design and development and PHP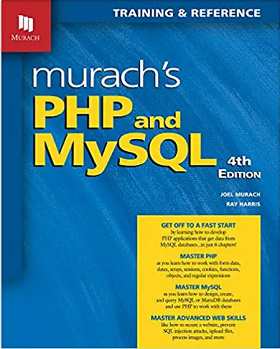 For recommendations of books on web development see Web Design And Development - Top Pick CSS And HTML Books and Web Design And Development - More Books in our Programmer's Bookshelf section.
For more Book Watch just click.
Book Watch is I Programmer's listing of new books and is compiled using publishers' publicity material. It is not to be read as a review where we provide an independent assessment. Some, but by no means all, of the books in Book Watch are eventually reviewed.
To have new titles included in Book Watch contact BookWatch@i-programmer.info
Follow @bookwatchiprog on Twitter or subscribe to I Programmer's Books RSS feed for each day's new addition to Book Watch and for new reviews.
---
WordPress In Easy Steps
Author: Darryl Bartlett
Publisher: In Easy Steps
Pages: 192
ISBN: 978-1840788532
Print: 1840788534
Kindle: B07WD95M2B
Audience: Non programmers interested in WordPress
Rating: 3
Reviewer: Kay Ewbank
This is a book aimed firmly at non-programmers who know nothing about web development, so will be [ ... ]
---
The Big Book of Small Python Projects
Author: Al Sweigart
Publisher: No Starch Press
Date: June 2021
Pages: 432
ISBN: 978-1718501249
Print: 1718501242
Kindle: B08FH9FV7M
Audience: Novice Python developers
Rating: 4
Reviewer: Lucy Black
A project book? A good way to learn Python?
More Reviews