Wednesday, 04 January 2023
In this book described as "a hands-on guide to building creative real-life projects with MicroPython and the BBC Micro:bit" Ashwin Pajankar, Abhishek Sharma and Sandeep Saini show how hardware components can be manipulated using a combination of Micro:bit and MicroPython. The book begins with mini projects aimed at developing practical knowledge of circuit design and writing programs before moving on to how to write programs for working with built-in LEDs and buttons, interfacing external LEDs, buttons, motors and buzzers, built-in radio, speakers, accelerometer, and a compass.
<ASIN:1804610127>
Author: Ashwin Pajankar, Abhishek Sharma and Sandeep Saini
Publisher: Packt Publishing
Date: December 2022
Pages: 292
ISBN: 978-1804610121
Print: 1804610127
Kindle: B0BHT9ZZY2
Audience: Developers interested in hardware
Level: Intermediate
Category: Hardware platforms and Python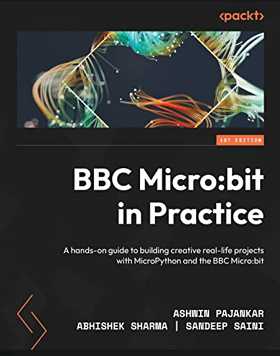 Also see: Micro:bit IoT In C, Second Edition (I/O Press)

For more Book Watch just click.
Book Watch is I Programmer's listing of new books and is compiled using publishers' publicity material. It is not to be read as a review where we provide an independent assessment. Some, but by no means all, of the books in Book Watch are eventually reviewed.
To have new titles included in Book Watch contact BookWatch@i-programmer.info
Follow @bookwatchiprog on Twitter or subscribe to I Programmer's Books RSS feed for each day's new addition to Book Watch and for new reviews.
---
Embedded Vision: An Introduction (Mercury Learning)
Author: S. R. Vijayalakshmi and S. Muruganand
Publisher: Mercury Learning
Date: October 2019
Pages: 580
ISBN: 978-1683924579
Print: 1683924576
Kindle: B07YN6JC19
Audience: Developers interested in vision-enabled devices
Rating: 3
Reviewer: Harry Fairhead
The power of small machines is now well able to ta [ ... ]
---
Administering Relational Databases on Microsoft Azure
Author: Prashanth Jayaram et al
Publisher: Independent
Pages: 622
ISBN: 979-8706128029
Print: B08Y4LBTP4
Kindle: B08XZQJHMK
Audience: Azure DBAs
Rating: 2 or 4 (see review for details)
Reviewer: Ian Stirk
This book aims to help you pass the Azure Relational Database exam DP-300, how does it fare?
More Reviews