Wednesday, 11 January 2023
This book reveals what you can do with the Pico's GPIO lines together with widely used sensors, servos and motors and ADCs. After covering the GPIO, outputs and inputs, events and interrupts, Harry Fairhead and Mike James give you hands-on experience of PWM (Pulse Width Modulation), the SPI bus, the I2C bus and the 1-Wire bus. This second edition has been expanded to cover wi-fi connectivity provided by the Pico W.
<ASIN:1871962803>
One of the key advantages of the Pico is its PIO (Programmable I/O) and while this is an advanced feature, it is introduced in this book. After finding out how the PIO works, it is used to write a PIO program for the DHT22 and the 1-Wire bus.
The original Pico lacked WiFi connectivity, a limitation overcome by the launch of the Pico W. Two new chapters are dedicated to how to make use of the additional features of the Pico W including how to create a web client and a web server, use HTTPS and asyncio.
Authors: Harry Fairhead and Mike James
Publisher: I/O Press
Date: December 2022
Pages: 360
ISBN: 978-1871962802
Print: 1871962803
Kindle: B0BR8LWYMZ
Audience: Developers using Raspberry Pi
Level: Intermediate/Advanced
Category: Hardware platforms and Python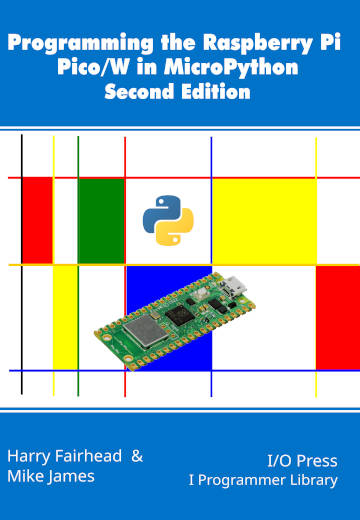 Companion Title:
Programming the Raspberry Pi Pico/W in C
For more Book Watch just click.
Book Watch is I Programmer's listing of new books and is compiled using publishers' publicity material. It is not to be read as a review where we provide an independent assessment. Some, but by no means all, of the books in Book Watch are eventually reviewed.
To have new titles included in Book Watch contact BookWatch@i-programmer.info
Follow @bookwatchiprog on Twitter or subscribe to I Programmer's Books RSS feed for each day's new addition to Book Watch and for new reviews.
---
Professional Scrum Development with Azure DevOps
Author: Richard Hundhausen
Publisher: Microsoft Press
Pages: 432
ISBN: 978-0136789239
Print: 0136789234
Kindle: B08F5HCNJ7
Audience: Developers interested in Scrum
Rating: 5
Reviewer: Kay Ewbank
This is a book designed for teams using Scrum and Azure DevOps together for developing complex product [ ... ]
---
Python Crash Course, 3rd Ed (No Starch Press)
Author: Eric Matthes
Publisher: No Starch Press
Pages: 552
ISBN: 978-1718502703
Print: 1718502702
Kindle: B09WJX22TV
Audience: People wanting to learn Python
Level: Introductory/Intermediate
Audience: Not the complete beginner
Rating: 4
Reviewer: Alex Armstrong
To reach a third edition this [ ... ]
More Reviews