Wednesday, 22 February 2023
This book is actually eight books in one, with this edition updated for Java 19. Doug Lowe starts from the basics of Java, then goes deeper, with info on object-oriented programming, Java FX, Java web development, and beyond. Easy-to-follow instructions, fun practice, and a time-tested instructional approach are designed to shorten the learning journey.
<ASIN:1119986648>
Author: Doug Lowe
Publisher: For Dummies
Date: February 2023
Pages: 912
ISBN: 978-1119986645
Print: 1119986648
Kindle: B0BRVXZBZW
Audience: would-be Java developers
Level: Introductory/Intermediate
Category: Java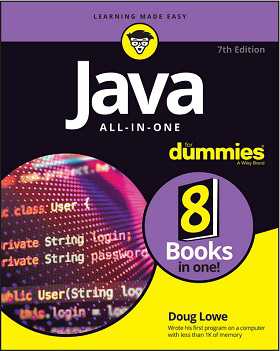 The eight mini books included are:
Java Basics
Programming Basics
Object-Oriented Programming
Strings and Other Data Types
Data Structures
Algorithms
Programming Techniques
JavaFX
For recommendations of Java books see Java Books For Beginners, Java Books For Going Further and Advanced Java - Books Outside the Core in our Programmer's Bookshelf section.
For more Book Watch just click.
Book Watch is I Programmer's listing of new books and is compiled using publishers' publicity material. It is not to be read as a review where we provide an independent assessment. Some, but by no means all, of the books in Book Watch are eventually reviewed.
To have new titles included in Book Watch contact BookWatch@i-programmer.info
Follow @bookwatchiprog on Twitter or subscribe to I Programmer's Books RSS feed for each day's new addition to Book Watch and for new reviews.
---
SQL Server 2022 Query Performance Tuning (Apress)
Author: Grant Fritchey
Publisher: Apress
Pages: 745
ISBN:978-1484288900
Print:1484288904
Kindle:B0BLYD98SQ
Audience: DBAs & SQL Devs
Rating: 4.7
Reviewer: Ian Stirk
A popular performance tuning book gets updated for SQL Server 2022, how does it fare?
---
SQL Server Query Tuning and Optimization (Packt)
Author: Benjamin Nevarez
Publisher: Packt Publishing Pages: 446
ISBN: 9781803242620
Print: 1803242620
Kindle: B0B42SVBFY
Audience: Intermediate to advanced DBAs and developers
Rating: 4.7
Reviewer: Ian Stirk
This book aims to give you the tools and knowledge to get peak performance from your que [ ... ]
More Reviews