Friday, 03 March 2023
This book is a friendly walkthrough to help readers build a first web application using Ruby and the Rails framework. Jonathan Evans uses the example of helping cats run a farm.
<ASIN:1034777041>
Author: Jonathan Evans
Publisher: Blurb
Date: February 2023
Pages: 112
ISBN: 978-1034777045
Print: 1034777041
Audience: Non-programming cat lovers
Level: Introductory
Category: Ruby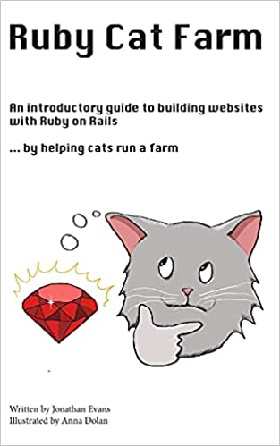 For recommendations of Ruby books see Gems Among Ruby Books in our Programmer's Bookshelf section.
For more Book Watch just click.
Book Watch is I Programmer's listing of new books and is compiled using publishers' publicity material. It is not to be read as a review where we provide an independent assessment. Some, but by no means all, of the books in Book Watch are eventually reviewed.
To have new titles included in Book Watch contact BookWatch@i-programmer.info
Follow @bookwatchiprog on Twitter or subscribe to I Programmer's Books RSS feed for each day's new addition to Book Watch and for new reviews.
---
Large-Scale C++, Volume I
Author: John Lakos
Publisher: Addison-Wesley
Pages: 988
ISBN: 978-0201717068
Print: 0201717069
Kindle: B0826523GZ
Audience: Programmers with plenty of time to spare
Rating: 3
Reviewer Mike James:
Large Scale C++, what can this mean?
---
Accelerating Software Quality
Author: Eran Kinsbruner
Publisher: Perforce
Pages: 357
ISBN: 978-8671126044
Print: B08FKW8B9B
Kindle:B08FKWD2TR
Audience: Devops developers
Rating: 3
Reviewer: Kay Ewbank
With a subtitle of 'machine learning and artificial intelligence in the age of devops', this book certainly sounds as though it fits c [ ... ]
More Reviews