Android Becomes World's Most Popular OS
Written by Janet Swift
Monday, 03 April 2017
The post PC era has arrived. You can no longer afford to dismiss Android as just a flakey smartform platform. Lamentably it is still flakey, but on a global basis it is the most popular operating system.
Back in April 2013, we reported on projections from Gartner that suggested that that as consumers move away from desktop PCs Android would become the overwhelmingly dominant operating system, see The Future Is Android. Now it seems, on cue as Gartner was looking forward to 2017, this has happened.
The news, which comes from StatCounter, is that Google's Android has has overtaken Microsoft Windows for the first time in terms of total internet usage across desktop, laptop, tablet and mobile combined.
It doesn't come as much of a surprise. On the basis of the February figures, last month we ran the story Android About To Overtake Windows On Internet and if you compare the OS Market Share Worldwide Graph in that report with the one below and the difference is that Windows share has declined by 0.7% while that of Android has increased by 0.5%.
Commenting on Android's share of 37.3%, which puts it marginally ahead of Windows (37.91%) for the first time, Aodhan Cullen, CEO of the web analytics company StatCounter said:
"This is a milestone in technology history and the end of an era. It marks the end of Microsoft's leadership worldwide of the OS market which it has held since the 1980s. It also represents a major breakthrough for Android which held just 2.4% of global internet usage share only five years ago."
While Android and Windows are currently running neck and neck, they are well ahead of any competition, with iOS at 13.09% in third place and OS X trailing behind the front runners with just 5.17%.
If you are surprised to find Android as the top operating system you need to bear in mind this is the position globally and it is heavily skewed by Asia where Android has a 52.2% share compared to 29.2% for Windows. In North America Windows has 39.5% of the market, followed by iOS (25.7%) and Android (21.2%). Android is also in third place in Oceania where it has just 16.1%, while Windows has 38.1% and iOS 29.6%. In Europe Windows is on 51.7% but Android (23.6%) is well ahead of iOS (13.73%).
If you want to know more about the geographical distribution StatCounter has this interactive map:
You can however be confident that green will come to dominate first world countries. They currently are still heavily reliant on desktop machines simply because they acquired the technology early on, but the trend away from PCs and towards mobile devices is taking hold and is unstoppable.
Cullen holds out one straw that Microsoft might clutch at saying:
"It will be difficult for Microsoft to make inroads in mobile but the next paradigm shift might give it the opportunity to regain dominance. That could be in Augmented Reality, AI, Voice or Continuum (a product that aims to replace a desktop and smartphone with a single Microsoft powered phone)."
I'm not convinced that this is enough to bring back the desktop but the Android OS will need to evolve to cope with the demands that consumers will put on it over the coming decade.
So, if you haven't already done so, you need to get into Android programming. If you already program in Java, or in another language and are prepared to pick up Java as you go, I can recommend Android Programming: Starting With An App, 2nd Ed (I/O Press). Written originally as the Android Adventures series for this website, author Mike James has already updated it to the latest version of Android Studio, making it the most up-to-date Android book currently available.
More Information
---
How High Can Kotlin Go?


22/11/2023




Having entered the Top 20 of the TIOBE Index in September 2023, Kotlin has continued its upward trend. Is it going to break into the Top 10 any time soon? Could it emulate Python and rise to the top?

[ ... ]

---
Othello Solved - It's A Draw!
10/11/2023
The board game Othello, also known as Reversi as it played by reversing the colors of black and white disks, has been solved using alpha-beta pruning. Given "perfect play", that is a situation in [ ... ]
More News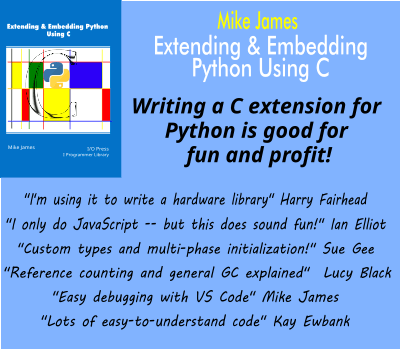 Comments
or email your comment to: comments@i-programmer.info
<ASIN:187196251X>
Last Updated ( Monday, 03 April 2017 )