edX 20% Off For Back To You Season
Written by Sue Gee
Wednesday, 16 August 2023
edX is offering a 20% discount on selected courses and program bundles until August 31st. Instead of "Back To School" it's slogan is "Back To You" since this is online learning that you can do at your own pace.
Disclosure: When you make a purchase having followed a link to from this article, we may earn an affiliate commission.
This offer applies to Verified Courses, Professional Certificates, XSeries, MicroBachelors, and MicroMasters Programs so I've chosen one of each type, indicating its pre-discount price. Of course, there's a wide range of options to choose from but to get 20% off the normal price use code EDXFRESHSTART at checkout before August 31st, 2023. All of them are self-paced and you start as soon as you enroll.
Introduction to ChatGPT (Cost of Verified Track $20) is a new course relating to the currently hot topic of OpenAI's advanced language model.
Billed as a 1–week course requiring 1-2 hours per week, it covers the fundamentals of natural language processing, machine learning, and ChatGPT, including model creation and training, as well as various applications of ChatGPT. It is intended to equip the learner with the skills to create and deploy their own ChatGPT models, allowing them to create ChatGPT applications for real-world use.
It has a long list of learning outcomes considering its time requirement and that no prior knowledge of ChatGPT is needed.
Understand what ChatGPT is and its capabilities
Learn to create an account and get started with ChatGPT
Explore the art of asking questions to ChatGPT and handling abusive queries
Personalize your ChatGPT experience by customizing its responses and adjusting its tone
Discover ChatGPT's conversation history and its usage
Build chatbots with ChatGPT and integrate it with other tools
Use ChatGPT for language translation, generating creative content, and discovering new knowledge
Understand ChatGPT's limitations and ethical standards when using it
Effectively contextualize queries and maximize ChatGPT's potential
Practice interacting with ChatGPT through examples and exercises.
My choice of professional certificate is Professional Certificate in Computer Science for Artificial Intelligence (Cost: $400) which bundles two Harvard University-originated courses, both of which we've looked in the past. The first course in the set is David Malan's CS50's Introduction to Computer Science which takes 12 weeks at 6-18 hours per week and is targetted at students with and without prior programming experience and teaches them to think algorithmically and solve problems efficiently. Having introduced it in 2014 in the report Students Flocking to Computer Science I revisited it in 2018 when other courses from David Malan all of which picked up where CS50 left off came online, commenting:
It is Malan's teaching style that has made CS50 the most popular course at Harvard attracting record numbers of both majors and minors and the edX course combines videos of his in-person lectures and assignments that use the edX autograder.
The second course is CS50's Introduction to Artificial Intelligence with Python which takes 7 weeks at 10-30 hours per week. Nikos Vaggalis has looked at in detail with a week-by-week breakdown of the content and which is summed up by an exploration of the concepts and algorithms at the foundation of modern artificial intelligence, diving into the ideas that give rise to technologies like game-playing engines, handwriting recognition, and machine translation.
Introduced by edX in 2015, XSeries are a collection of courses designed to be taken together to provide a comprehensive learning experience on a particular topic. The XSeries Program in Computational Thinking using Python (Cost $135) comprises two courses from MIT's Department of Computer Science and Electrical Engineering taught by Professors Eric Grimson and John Guttag together with Anna Bell. I last reported on it when it was updated to the current version in 2018, see Popular Python Course Updated. This is a fairly academic approach to Computer Science which has proved extremely popular.
For a more practical approach to a specific job-related topic the MicroBachelors® Program in Full Stack Application Development (Cost: $713.30) bundles12 courses from IBM into a program estimated to take 8 months at 4-6 hours per week. Its learning outsomes are:
Describe the core concepts of cloud computing, cloud models and architectures, components of cloud computing, and list the major cloud service providers.

Apply essential cloud application development concepts and languages including HTML5, CSS3, and JavaScript, to create your first cloud-based applications.

Explain Cloud Native and apply DevOps practices with a CI/CD toolchain on IBM Cloud, and Git to continuously develop and update Cloud applications.

Describe and apply best practices in secure cloud computing, by adding authentication and encryption to your application.

Demonstrate your proficiency in applying various Cloud Native tools and technologies to develop, deploy, run, and update applications on a cloud platform.

Develop full-stack native cloud applications using Node.js framework for server-side and React for front-end.
While MicroBachelors programs are intended for adult learners looking to progress their career at undergraduate level, MicroMasters are similarly career-oriented but at graduate level. The MicroMasters® Program in Data Science (Cost $1260) from UC San Diego which is estimated to take 10 months at 9-11 hours per week and will equip learners with the following skills:
How to load and clean real-world data

How to make reliable statistical inferences from noisy data

How to use machine learning to learn models for data

How to visualize complex data

How to use Apache Spark to analyze data that does not fit within the memory of a single computer
Successfully completing a verified course, an X Series, a Professional Certificate or a MicroBachelors or MicroMasters program results in a gaining certificates that are widely recognized by hiring managers. As we've repeatedly reported such credentials are worthwhile whether you are looking for a promotion in your current job or are contemplating a career move. Having a 20% discount is just the icing on the cake!
Professional Credentials For Computer Science Careers
To be informed about new articles on I Programmer, sign up for our weekly newsletter, subscribe to the RSS feed and follow us on Twitter, Facebook or Linkedin.
---
Apache Pekko 1.0 Released
07/11/2023
Apache has released version 1 of Pekko, an open source toolkit and runtime simplifying the construction of concurrent and distributed applications on the JVM. Pekko is a fork of Akka and has come abou [ ... ]
---
Microsoft Announces New Tools at Ignite
22/11/2023
Microsoft announced a range of new features for its tools at its annual Ignite conference, with new ways to customize Microsoft 365 and extra AI facilities for Azure.
More News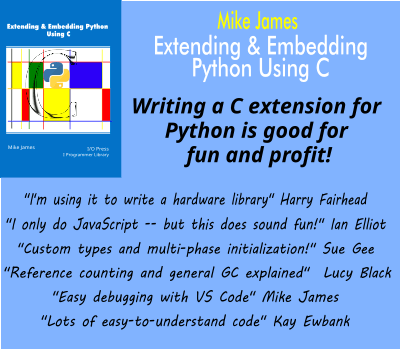 Comments
or email your comment to: comments@i-programmer.info
Last Updated ( Thursday, 07 September 2023 )