ABC++ Programming For Toddlers?
Written by Book Watch
Saturday, 09 May 2015
Book Watch is the section of IProgrammer that covers newly released programming books, many of which will subsequently reviewed by our expert reviewers who are generally part of the audience the book is aimed it. "Programming Languages ABC++" is a title that we'll be looking to cover when it is published in September.
But as it is aimed at toddlers we may find it difficult to recruit the right reviewer.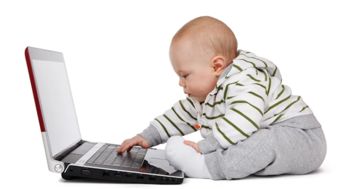 Programming Languages ABC++ is currently the subject of a Kickstarter Campaign which has already exceeded its initial goal of $5000 to ensure that it will be produced as a 30-page board book. It continues to raise money for its stretch goals - no not extra pages but instead stickers and posters.
As explained in the Kickstarter video, the project comes from Inedo, publisher of continuous delivery tools like BuildMaster and ProGet. It is Inedo's second Kickstarter project. It had a recent success with a card game, called Release, a few copies of which are still available. Inedo was then approached by "geeky parents" Michael and Martine Dowden who had plans for an alphabet book about coding intendedto be fun for both toddlers and their grown up counterparts.
Unlike other Kickstarter projects that are often at an early stage this project is almost complete and you can already dowload a pdf of the draft.
As it's back jacket blurb explains:
Programing Languages ABC++ is an alphabet board book that takes you and your kid from Ada to Zimbu, with a snippet of code from each language to help them say hello to the world of development.
So it is going to make your toddler into a coder? Obviously not immediately, but early influences count for a lot and the importance of becoming code literate is increasingly recognised.
A Kickstarter pledge of $15 reserves you the book and for $33 you can obtain the book and a toddler-sized t-shirt featuring the book's main character, the Bug as he slurps spaghetti code: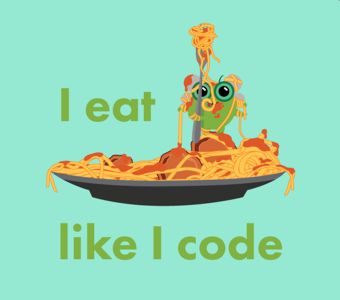 A comment on the Kickstarter site states:
Would love to see an adult sized version of the shirt.
and I imagine there are plenty of coders who would endorse that sentiment. Perhaps promoter Alex Papadimoulis could add that as another stretch goal.
Reviewers who have seen the advanced copies of the work are enthusiastic and a signed copy could become a collector's item. Hurry - there are a very limited number of signed book plus t-shirt packages left.
---
GitHub Announces AI-Powered Changes
09/11/2023
GitHub has announced changes to its platform that will use AI "in every step of the developer lifecycle". The intention is to make natural language become the universal programming language. The annou [ ... ]
---
Microsoft's Generative AI for Beginners
21/11/2023
A free, self-paced online course about Generative AI is on offer from Microsoft's Azure Cloud Advocates. It's a 12-lesson curriculum targeted at complete novices to LLMs.
More News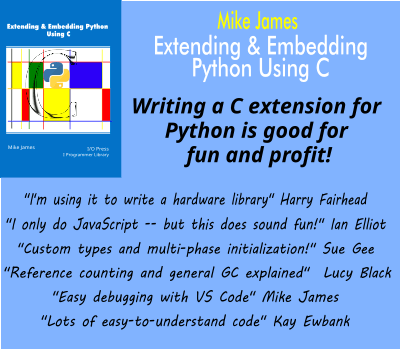 Comments
or email your comment to: comments@i-programmer.info
Last Updated ( Saturday, 09 May 2015 )