Developer Preferences for Reading eBooks
Written by Sue Gee
Sunday, 25 March 2012
A survey from O'Reilly about ebook reading habits reveals facts that might come as a surprise if you thought that the future of ebooks is completely determined by the rise of the dedicated eReader.
Technical book publisher (and specifically publisher of many programming titles) O'Reilly doesn't sell ebooks through the Amazon Kindle store. It does, however, sell ebooks in multiple formats on its site, shop.oreilly.com.
In a recent survey of potential ebook purchasers visiting this site, O'Reilly asked customers the following questions regarding the devices they use for ebooks and the formats they would use.
If you purchase an ebook from oreilly.com, which of the following is the primary device you will read it on? [Choices included laptop, desktop, iOS devices, Android devices, various Kindle models, and other ereaders/tablets.]
If you purchase an ebook from oreilly.com, which of the following is the primary format in which you plan to read the book? [Choices included PDF, EPUB, Mobi, APK and Daisy formats.]
The results of the survey were provided by Joe Wikert on O'Reilly Radar and in a set of tweets.
What Wikert found most surprising is that almost half (46%) nominated their laptop or desktop computer as their primary e-reading device. Given that 50% of respondents chose PDF as the preferred format the choice of PC, with a large screen well suited to PDFs seems entirely consistent. And as a comment on the story points out:
Let's face it: new tablet-oriented formats (EPUB & others) are mainly for *passive* reading: for reading a novel for pleasure, for example. But if you have to *interact* with the book you're reading (most people read for work, not only leisure, purposes) as opposed to simply act as a receiver of its content, you'll keep reading it in your laptop or desktop (which yes, means good old PDF).
In fact the top single reading device was the iPad which had 25% of the votes, whereas laptop and desktop had 23% each. The Kindle lagged well behind with 10% share and Android tablet was selected as "primary" by less that 2% of O'Reilly customers.
For formats PDF (50%) was the clear favorite; ePub, described as the mp3 for books by Wikert, came in second place (31%) and Mobi, which can be read by Kindle devices and apps, was third place (17%).
So could it be that despite all the, fairly believable, hype that, for technical books at least, the laptop and desktop have a lot to offer over and above dedicated reading devices.
On the other hand, if you are an avid Kindle fan, you probably visit the Kindle store for your technical as well as for your leisure reading. In this respect O'Reilly customers possibly represent a biased group that under-represents Kindle owners.
More Information
Direct sales uncover hidden trends for publishers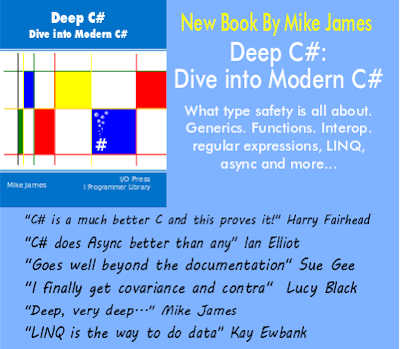 Comments
or email your comment to: comments@i-programmer.info
To be informed about new articles on I Programmer, subscribe to the RSS feed, follow us on Google+, Twitter, Linkedin or Facebook or sign up for our weekly newsletter.
---
Epic v Apple - Both Sides Lose But It's A Win For Developers
13/09/2021
Finally we can report a result from the Apple vs. Epic Games lawsuit. Judge Yvonne Gonzalez Rogers has issued a permanent injunction saying that Apple can no longer forbid developers from directi [ ... ]
---
Python Tops Language Rankings - Again
01/09/2021
For the fifth year in a row Python tops the IEEE Spectrum Language Rankings. This exercise uses an interactive app that can be customized. So I set out to see what it takes to dislodge Python from its [ ... ]
More News
Last Updated ( Friday, 30 March 2012 )