JS Foundation and Node.js Foundation Intent To Merge
Written by Ian Elliot
Friday, 05 October 2018
The boards of both the Node.js Foundation and the JS Foundation Foundations have agreed to public discussions related to a possible merger to sustain continued and healthy growth in the Node.js and JavaScript ecosystem.
The announcement made jointly on October 4th by both foundations states:
We have not made any formal decisions at this point regarding a new or merged Foundation and its potential organizational structure, governance policies, technical framework or leadership. This will be formalized based on feedback from the Node.js and JavaScript communities.
A Q&A session which will take place at next week's Node+JS Interactive event being held in Vancouver is one opportunity for community members to express their views.
A related announcement, from the Linux Foundation to which they both belong, explains that the Node.js Foundation and JS Foundation boards have already met several times already to discuss a potential alignment of the communities and that the rationale for this is to:
expand the scope of the current Foundations and enable greater support for Node.js and a broader range of JavaScript projects.
For anyone who isn't familiar with the situation, a little background may be helpful. The Node.js Foundation came about after a well publicized rift at the end of 2014 when Node.js was forked by a large group of its contributors who were unhappy with the way that the project's main sponsor, Joyent, was managing the project. The breakaway devs formed the io.js project which added advanced features to the platform at a rapid pace. The formation, in 2015 of the Node.js Foundation, as a Linux Foundation Collaborative Project, enabled the two factions to be reunited and the two code bases to be merged.
At around the same time the jQuery and Dojo foundations announced they were joining forces with support from IBM. It was this that led to the formation of the JS Foundation, also hosted by the Linux Foundation, with Kris Borchers as its Executive Director.
Yesterday Borchers tweeted:
The JS and Node.js Foundations announcement reiterated this message:
After having two separate Foundations for two years, we believe there needs to be a tighter integration between both Foundations to enable greater support for Node.js and a broader range of JavaScript projects. We look forward to continuing to support the healthy growth of the JavaScript ecosystem and look forward to the potential of supporting an even wider range of projects that the JavaScript ecosystem is dependent on as well as projects that focus on new areas of growth for JavaScript.
The goals for the merger, according to the announcement, are:
Enhanced operational excellence;
Streamlined member engagement;
Increased collaboration across the JavaScript ecosystem and affiliated standards bodies;
An "umbrella" project structure that brings stronger collaboration across all JavaScript projects; and
A single, clear home available for any project in the JavaScript ecosystem rather than projects having to choose between the JS and Node.js Foundation.
The Linux Foundation's announcement included this statement regarding the merger:
Today, JavaScript is nearly ubiquitous. Enterprises have been able to greatly reduce training costs and increase developer productivity because frontend JS developers can work on the server side, and vice-versa, eliminating the context switches and enabling all developers to pull from the same knowledge base and vast module ecosystem. Node.js is a major catalyst for this growth. It has become an important part of the modern web development stack and is often the assumed default when working with JavaScript. Merging the Foundations will bring the governance of these technologies in line with its real-world use.
---
Calling All Pythonistas
10/10/2018
JetBrains is running a survey of Python Developers for the second time. The results of the first one provided a helpful overview of the Python landscape, so if you actively use Python it's worth spend [ ... ]
---
Android Studio 3.2 Released - More Cruft Than Substance
28/09/2018
Oh well here we go again. Android Studio 3.2 has been released and it has new features to support Android devices. Sometimes it seems like the Android Studio team has forgotten that Android Studio has [ ... ]
More News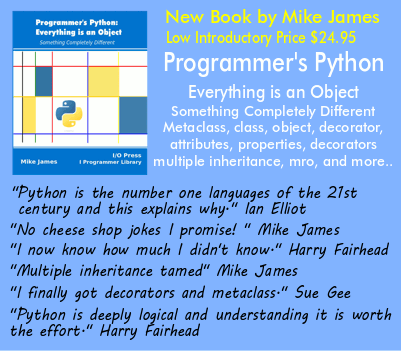 Comments
or email your comment to: comments@i-programmer.info
Last Updated ( Friday, 05 October 2018 )