Webinar For Intel RealSense Experience
Written by Sue Gee
Monday, 12 October 2015
Intel's RealSense technology opens up new ways for users to interact with their computers. To see what other developers have already achieved, here's the video of a webinar that took place on October 14.
Intel introduced RealSense in 2014, building on software and hardware for "perceptual computing" that had been in development since 2012. Its emphasis is on creating natural user interfaces for the 3D world we live in.
As well as facial analysis and hand and finger tracking for interaction via gestures, RealSense depth-sensing allows external 3D objects to be animated and incorporated into virtual reality experiences.
There are two variants of the RealSense camera available as developer kits, both costing £99:
The one on the left integrates into a desktop or laptop and is user facing with a sensing depth of around 1 metre. The standalone version on the right has a depth of about four metres and an approximate 3D range of up to 10 metres.
RealSense product manager Anil Nanduri says:
"The next big step is just getting it out there. Getting it into the ecosystem and ramping up usage. From there, it's all about richer capabilities, smaller modules and a more user-friendly interface."

To help developers understand the technology's potential three speakers shared their virtual-reality projects developed using Intel RealSense technology at a webinar on October 14, 2015.
The demos are:
Karaoke Star is an alternative-reality solution that transforms users into rock stars from Kfir Matza, co-founder and chief technology officer at Onysus Software Ltd in Israel. Watch as users become seamlessly immersed in a production-grade video clip as they bust out their favourite tune.


In Linking Arduino and RealSense, Anthony Thomas a game developer from the UK presents a project that connects the RealSense technology to motors for remote actuation, integrating the sensors and pick-up/control movements.


Rudy Aramayo, student researcher at Texas A&M University presents,The Quantum Chemistry of RNA exploring the theory of hyper-physics and the molecular field of space-time
If you missed the webinar, or want to see it again, here it is:
Now that RealSense developer kits are available, developers have the opportunity to bring virtual reality into games and educational products and this webinar sets out add the element of inspiration.
---
Advent Of Code 2023 Unlocked
01/12/2023
December 1st is the day on which, each year, Eric Wastl opens a very special advent calendar. You don't get rewarded with chocolates in the Advent of Code - instead it's stars for solving coding puzzl [ ... ]
---
Hydra Turns PostgreSQL Into A Column Store
13/11/2023
Hydra is an open-source extension that adds columnar tables to Postgres for efficient analytical reporting. Version 1.0 is generally available.
More News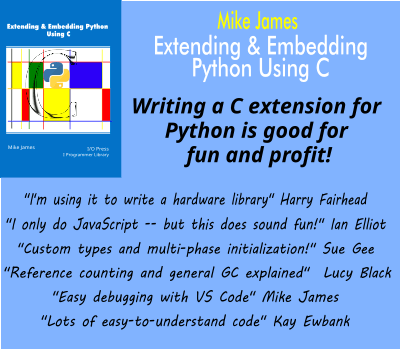 Comments
or email your comment to: comments@i-programmer.info
Last Updated ( Sunday, 18 October 2015 )