Imitation Game Opens London Film Festival
Sunday, 12 October 2014
The film about Alan Turing, starring Benedict Cumberbatch as the mathematician who used his genius as a code-breaker during World War II, had a red carpet premiere in London this week.
The Imitation Game had already won the People's Choice Award the Toronto International Film Festival and given the current level of media attention it is becoming difficult to separate the film from the history it portrays.
Cumberbatch's portrayal of Turing seems to be a sympathetic one, which attempts to address the many facets of a complex personality including his post-war decline following his conviction for gross indecency. If you are not already familiar with the story the film sets out to tell this recently released trailer provides the gist:
At a press conference before the London premiere, Cumberbatch said:
"Getting an idea of [Alan Turing's] story out there does bear a certain weight of responsibility. This has been an extraordinary decade for him: his centenary, the pardons, the exhibitions and books, and now this film."
The screenplay by Graham Moore is based on Andrew Hodges biography Alan Turing: The Enigma, a new version of which is about to be released with the subtitle
the book that inspired the film "The Imitation Game".
Bletchley Park, where Turing and the code-breakers were based during the war, is the location used for some scenes as we get to see the replica Bombe in operation. Bletchley Park has just announced a major new exhibition ... about the film, "taking visitors behind
the scenes of the highly anticipated movie".
Directed by Morten Tyldum the film relies on many devices to suggest authenticity but for drama effect it must, and does deviate, from a completely accurate telling of history. After all, given the secrecy that surrounded the Bletchely Park code-breaking until the mid 1970's there is a great deal that is undocumented and for which there is no fact to rely on.
The film co-stars Keira Knightley, as Joan Clarke, a fellow cryptographer at Bletchley Park. Clarke died in 1966 and so was never able to tell anyone about her days at Bletchley Park. Quite a bit of dramatic licence has been taken in the details of her part in the story as Knightly explains in this interview:
The Imitation Game is fiction but because it is about real people the line between historic reconstruction and dramatic licence is blurred. This is exacerbated by the fact that its main protagonist, Turing, has come to prominence over the past couple of years having had only humiliation rather than recognition in his lifetime.
If the film does win Oscars will they be for Alan Turing as well as for Morten Tyldum, Benedict Cumberbatch and Keira Knightley?
---
JavaScript Devs Knowledge of Features
01/03/2023
Each new release of ECMAScript introduces new features. How quickly are they adopted? Do JavaScript developers even know about them all? The State of JavaScript 2022 reports suggests a high degree of [ ... ]
---
Curl 8 Is Here On Curl's 25th Birthday
20/03/2023
To mark 25 years since it was first released on March 20, 1998 curl 8.0.0 has shipped today, something that its originator and lead maintainer Daniel Stenberg, aka Badger, had said would never ha [ ... ]
More News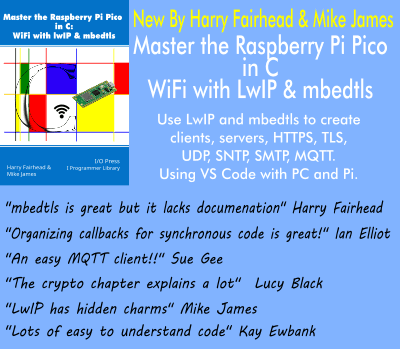 Comments
or email your comment to: comments@i-programmer.info
<ASIN:0671492071>
<ASIN:069115564X>
<ASIN:069116472X>
Last Updated ( Sunday, 12 October 2014 )