BBC Micro:Bit Goes Worldwide
Written by Harry Fairhead
Wednesday, 19 October 2016
The micro:bit had the promise to revolutionize UK computer education. With the formation of the Micro:bit Educational Foundation the time has come to take on the world - but has it got what it takes? The micro:bit developer community is now launched and perhaps supplies just what is needed.
The micro:bit project sounded exciting when it was first announced. A consortium of companies, including the BBC would put 1 million micro:bit devices into UK schools and this was just the start.
As things turned out it doesn't seem to have gone as well as hoped for. The micro:bit was very late being delivered and this resulted in many teachers simply not using it because it was too close to the end of the academic year. In theory each year 7 pupil was to be given a micro:bit to take home and get excited about. That's a lot of computing power in the hands of 11 to 12 year olds. However, there seems to be little evidence that it ever happened. Many teachers report hanging on to the devices to use in the following year and you can't help but imagine boxes of micro:bits locked in school cupboards.
The statistics aren't encouraging either. Since the launch in March 2016 there have been 2 million projects downloaded onto micro:bits. Given there are supposed to be 1 million micro:bits out in the world, that's average of just two per device, which is not impressive.
The micro:bit went on sale in the UK for £13 and there was a promise that a not for profit would take over from the BBC and spread the device more widely. This is now happening. The newly formed Micro:bit Educational Foundation is headed by Zach Shelby, former Director of Technology for Internet of Things at ARM. He said:
"Our goal is to go out and reach 100 million people with Micro Bit, and by reach I mean affect their lives with the technology."
The plan seems to be to roll out the micro:bit across Europe before the end of the year and in 2017 a new version of the micro:bit will target the USA and China. Apparently you need more LEDs than 25 to display Chinese characters.
The Micro Bit Educational Foundation is being led by Zach Shelby, who previously worked at the chip-designer ARM Credit BBC.
There are lots of unanswered questions about what is going on and getting answers isn't straightforward. Until now the only source of information had been the BBC sponsored website intended primarily for recipients of the original 1 Million devices, with full access only granted to teachers in a UK schools. At the moment the software used to create micro:bit programs is also hosted on the original BBC website. With the transfer of control to the foundation, presumably it will take on this responsibility and provide other infrastructure such as documentation and help.
Comparing the micro:bit's community to that of the Raspberry Pi is also interesting. Because up to now it has been effectively a teachers-only closed shop it really isn't anything like an open "maker" community. If the micro:bit is going to be as sucessful as the Pi, 10 million sold, this closed world is going to have to open up.
As this news item was being written the Micro:bit Foundation's site http://tech.microbit.org/ came online. It is a step in the right direction as it contains some new documentation. What it currently lacks, however, is an open forum. The invitation to "Join the micro:bit developer commuity" turns out to be a slack channel that you have to sign up even to read any forum posts. The forum is probably the key element in whether or not the micro:bit can establish itself now that UK schools have to pay for devices if they want to use them next year.
More Information
Related Articles
BBC Micro:bit Now On Sale and Shipping
BBC Micro:Bit Finally Ships to 1 Million For Free
BBC micro:bit Your Next Computer?
BBC Giving Away 1 Million Microcomputers
The BBC Micro:bit Is An Mbed Device In C/C++
Micro:bit IoT In C - Getting On WiFi
Getting Started With C/C++ On The Micro:bit
Offline C/C++ Development With The Micro:bit
The BBC Micro:bit Which Language?
Commando Jump Game For The Micro:bit In Python
Commando Jump Game For The Micro:bit In JavaScript
Micro:bit Commando Jump In The Microsoft Block Editor
Commando Jump Game For The Micro:bit In Touch Develop
To be informed about new articles on I Programmer, sign up for our weekly newsletter, subscribe to the RSS feed and follow us on Twitter, Facebook or Linkedin.
---
Kaggle Contest To Detect Chatbot Essays
03/11/2023
As LLMs like ChatGPT rapidly improve their ability to generate text similar to human-written content, educators have very real concerns about how to distinguish between students own work and that [ ... ]
---
Amazon Working On Olympus LLM
24/11/2023
According to Reuters, Amazon is working on a large language model (LLM), codenamed "Olympus". With, reportedly, 2 trillion parameters, it is twice the size of OpenAI's GPT-4 model.
More News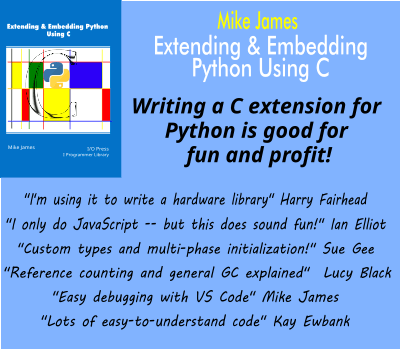 Comments
or email your comment to: comments@i-programmer.info
<ASIN:1871962455>
Last Updated ( Friday, 23 December 2016 )