Project Jacquard Products Materialize
Written by Lucy Black
Wednesday, 09 October 2019
Google's Project Jacquard has finally launched wearables that seem stylish and incorporate technology in an appropriate and practical manner. Your choices are an Yves St Laurent backpack and range of Levi's jackets for both men and women.
The idea of Project Jacquard, named after the 18th century punch card controlled Jacquard loom, is to use conductive thread to create gesture-recognizing input patches on clothes.
We first reported on, Project Jacquard - Google's entry into the arena of wearable technology - in 2015 but then things went very quiet. It took until March 2017 for its first product, a Levi's denim jacket targeted at cyclists, to be demoed. Then there was a further delay before the Trucker jacket, which had originally been scheduled for a Spring 2017 launch, made it to market in September 2017.
Now a second item incorporating the tech, the Cit-E backpack, has been launched, thanks to Google partnering with Yves St Laurent, and the range of Jacquard enabled Levi's jacket has been expanded. Could it be that the era of wearable technology and ambient computing, i.e. digital experiences through everyday things around you, as envisaged by Google's Advanced Technology and Projects (ATAP) team is now beginning?
The Jacquard version of the Cit-e Backpack has conductive threads woven directly into the left backpack strap to create a touch-sensitive interactive textile. Using gesture, wearers can control their music and capture moments on the go by dropping pins and taking pictures.
In the case of the jackets, now not only the Trucker priced at $198) but also a cold-weather stablemate, the Sherpa costing $248, it is the left sleeve cuff which responds to touch, as shown in this video which showcases its capabilities:
According to the ATAP team, writing on Google's blog The Keyword:
The central piece of the updated Jacquard platform is our new Jacquard Tag—which is smaller than a stick of gum and has a battery life of up to two weeks, and which makes Jacquard technology even more unobtrusive in these new connected products. The tag connects to our newly re-designed Jacquard app and allows you to personalize your Jacquard-enabled wardrobe to do what you would like it to do.
The blog post also summarizes the various Jacquard abilities. Probably the most useful is its Always Together alerts that make sure you don't leave your Jacquard item behind, after all anyone would be upset at losing a $995 backpack. When your phone and your Jacquard item are separated, you'll get an alert on your phone and your Jacquard item will light up and vibrate. You can view your Jacquard item's last known location from the Jacquard app home screen. Other abilities are music control, navigation and alerts. As well as the new Camera ability,
Jacquard was recently updated with new Google Assistant features. These include "My Day," which lets you get current updates on traffic, local weather, news and more. You can create your own Jacquard ability with "Ask Assistant". So if you use Google Assistant to control your smart home, get updates on the latest basketball score or check what your commute looks like before you head out you can program Jacquard to do all this with a simple gesture to be performed on your sleeve or the strap of your backpack.
Thinking back to the dissatisfaction with voice assistants I reported on earlier this week, see We Need To Talk About Alexa, I can certainly see the usefulness of switching on or off interior lights with wearables. It will be interesting to see if Jacquard by Google remains the preserve of elite labels or finds its way into mass market wares.
The other downside is that, at the moment, there doesn't seem to be anyway for "makers" or programmers to get involved. The Jacquard tag and the conductive yarn it works with are proprietary and the range of smartphones they work with is also limited. This is a shame for developers and perhaps even a missed opportunity for Google.
---
2023 Hour Of Code Announced
10/11/2023
New activities for this year's Hour of Code have been announced. The focus for 2023,"Creativity with AI", is designed to let students learn about computer science and artificial intelligence.
---
How High Can Kotlin Go?


22/11/2023




Having entered the Top 20 of the TIOBE Index in September 2023, Kotlin has continued its upward trend. Is it going to break into the Top 10 any time soon? Could it emulate Python and rise to the top?

[ ... ]

More News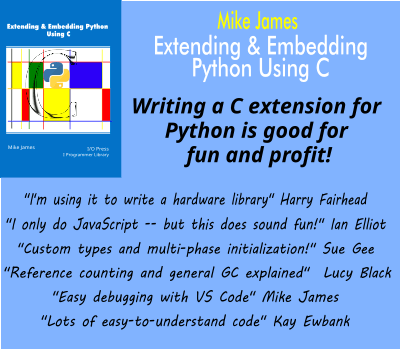 Comments
or email your comment to: comments@i-programmer.info
Last Updated ( Wednesday, 09 October 2019 )