Written by Harry Fairhead
Monday, 02 November 2020
In a move that takes us back to the days of the Commodore 64 and Spectrum, the Raspberry Pi Foundation has announced an all-in-one keyboard with an upgraded Pi 4 all for $70.
It is a long time since an all-in-one keyboard-based computer was a viable option, but the Pi 400 is. Its physical form is just a keyboard and all you have to add is one or two monitors, a mouse and a USB C power supply.
From a functional point of view what we have is a Pi 4 running at a slighltly higher speed, 1.8GHz rather than 1.5GHz. Overall, the Pi 400 runs about 20% faster than the Pi 4. The improved processor is responsible for some of the speed gain, but its mainly due to better thermal performanc and a bigger heat sink. The Pi 400 can almost certainly be overclocked to more than 2GHz.
Inside, however, the story is different. This is a whole new design. The PCB is long and thin and designed to fit into the keyboard with its ports poking out the back.
The important specifications are:
Broadcom BCM2711 quad-core Cortex-A72 (ARM v8) 64-bit SoC @ 1.8GHz
4GB LPDDR4-3200
Dual-band (2.4GHz and 5.0GHz) IEEE 802.11b/g/n/ac wireless LAN
Bluetooth 5.0, BLE
Gigabit Ethernet
2 × USB 3.0 and 1 × USB 2.0 ports
Horizontal 40-pin GPIO header
2 × micro HDMI ports (supports up to 4Kp60)
H.265 (4Kp60 decode); H.264 (1080p60 decode, 1080p30 encode); OpenGL ES 3.0 graphics
MicroSD card slot for operating system and data storage
Notice that the GPIO header is accessible and you could use a ribbon cable to connect it to a prototyping board. This makes the Pi 400 the easiest way to get started with IoT or physical computing.
As a desktop machine it has the advantage of being small and quiet. Shame there is no trackpad as part of the keyboard, and some people might prefer a separate USB keyboard. You might also need a USB external drive if you plan to store lots of data, but for many a 32GByte SDD would probably be enough. The 4GBytes of RAM should also be enough, but notice that it isn't upgradeable - will there be a Pi 800 in the future?
The bare machine costs $70, but you can also buy a complete package with with a mouse, power supply, micro HDMI to HDMI cable, and SD card preloaded with Raspberry Pi OS and a beginner's book for $100. There are versions with English (UK and US), French, Italian, German, and Spanish keyboard layouts and distribution is being arranged for most countries of the world.
What impact with this have?
In the post annoucing the new model Eben Upton writes:
"Raspberry Pi 4, which we launched in June last year, is roughly forty times as powerful as the original Raspberry Pi, and offers an experience that is indistinguishable from a legacy PC for the majority of users. Particularly since the start of the COVID-19 pandemic, we've seen a rapid increase in the use of Raspberry Pi 4 for home working and studying."
I doubt that the Pi 400 is up to heavy Zoom calling, but as a low-cost extra computer it has a lot going for it. It is a machine that could be used in classrooms and computer labs without the difficulties of working with the bare-board Pi models. This does simplify mass use of the machine a lot.
The only problem is that it runs Linux and not Windows - but for some this isn't a problem its a solution to a problem...
Harry Fairhead is I Programmer's harware expert. His acclaimed book on the Raspberry Pi has this just been republished as Raspberry Pi IoT in C, Second Edition in an updated and expanded edition.
More Information
Raspberry Pi 400: the $70 desktop PC
Related Articles
Pi Compute Module 4 - Time to Take Industrial Pi Seriously
Raspberry Pi 4 Sets New Performance High At Same Cost
Raspberry Pi 3A+ Last Of The Line
The Remarkable Rise of Raspberry Pi
Pi Zero Wireless A $10 Birthday Present
Raspberry Pi 3 Confirmed - 64-bit For $35
To be informed about new articles on I Programmer, sign up for our weekly newsletter, subscribe to the RSS feed and follow us on Twitter, Facebook or Linkedin.
---
BBC Giving Schools 700,000 micro:bits...
31/05/2023
... why? This raises so many questions on so many levels it is difficult to know were to start. A lesson or a warning for other countries?
---
Lost at SQL - The Game
21/05/2023
Do you want to get conversant with SQL? "Lost at SQL" offers a gamified approach to learning the basics of SQL addressed to total beginners.
More News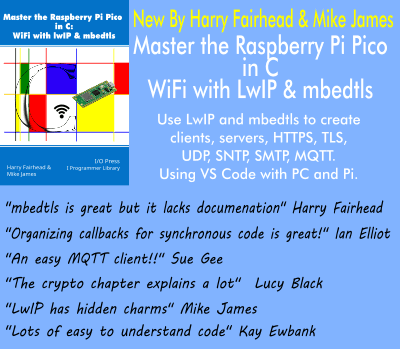 Comments
or email your comment to: comments@i-programmer.info
<ASIN:1871962633>
Last Updated ( Monday, 02 November 2020 )