ActiveState Extends to Ruby, Node.js, Go and Lua
News
Written by Alex Armstrong
Tuesday, 01 November 2016
ActiveState has announced the upcoming availability of ActiveRuby, ActiveNode, ActiveGo, and ActiveLua. These new releases will have free versions for the open source community, plus professional distributions for enterprise users.
As with its existing distributions of Perl, Python, and Tcl, ActiveState plans to offer free community-friendly versions of these upcoming languages, while enterprise users benefit from commercial support, indemnification, additional operating system support and more.
ActiveState's portfolio also includes the Komodo IDE which supports over 100 languages including Python, PHP, Go, Perl, Tcl, Ruby, NodeJS, HTML, CSS, JavaScript and more.
According to today's Active State announcement, Gartner predicts that 95% of mainstream IT organizations leverage nontrivial open-source software assets within their mission-critical IT portfolios.
Commenting on this statistic, Bart Copeland, CEO at ActiveState says:
"As far back as our founding in 1997, ActiveState has been deeply entrenched in open source, from supporting the communities to helping enhance open source language distributions. Our aim is to provide the community with the quality distributions they want, while giving enterprises and governments the commercial support and solutions they need to leverage the open source languages they love and use."
Ruby, Node.js, Go (Google Golang), and Lua were selected to expand the range that currently consists of ActivePerl, ActivePython and ActiveTcl distributions due to their growth, not only within the community, but within enterprises. Copeland explains:
"Our customers voiced that these were the top languages they wanted to see included in our new offering. We're starting with these, but as we continue to listen to customer requests and overall market demands, don't be surprised if you see more ActiveState language distributions released over the next while. Additionally, we will be taking all of our language distributions to the next level in 2017, by introducing enhanced distributions with additional enterprise security features, advanced package management, and more. We plan to fully support and enhance all of our current and new languages and make them better for everyone, from community-only users, to enterprise users, and beyond."
Follow these links to sign up to be the first to access the free Community Editions and learn more:
http://www.activestate.com/ruby
http://www.activestate.com/nodejs
http://www.activestate.com/lua
---
Spatial Data Management For GIS and Data Scientists
24/11/2023
Videos of the lectures taught in Fall 2023 at the University of Tennessee are now available as a YouTube playlist. They provide a complete overview of the concepts of GeoSpatial science using&nbs [ ... ]
---
Advent Of Code 2023 Unlocked
01/12/2023
December 1st is the day on which, each year, Eric Wastl opens a very special advent calendar. You don't get rewarded with chocolates in the Advent of Code - instead it's stars for solving coding puzzl [ ... ]
More News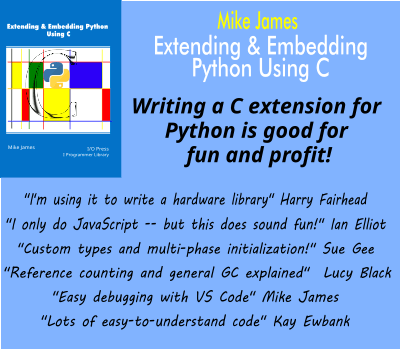 Comments
or email your comment to: comments@i-programmer.info
Last Updated ( Tuesday, 06 December 2016 )