Tim Berners-Lee Awarded Turing Prize
Written by Sue Gee
Tuesday, 04 April 2017
The prestigious Turing Prize goes this year (2016) to Sir Tim Berners-Lee for inventing the World Wide Web. As this is the 50th year of the Turing Award, the ACM Awards Banquet on June 24, where the prize will be presented, is going to be a glittering occasion.
The ACM (Association of Computing Machinery) citation for Sir Tim Berners-Lee reads:
For inventing the World Wide Web, the first web browser, and the fundamental protocols and algorithms allowing the Web to scale.
In the press release announcing the recipient of the 2016 Award, ACM President Vicki L. Hanson is quotes as saying:
"The first-ever World Wide Web site went online in 1991. Although this doesn't seem that long ago, it is hard to imagine the world before Sir Tim Berners-Lee's invention. In many ways, the colossal impact of the World Wide Web is obvious. Many people, however, may not fully appreciate the underlying technical contributions that make the Web possible. Sir Tim Berners-Lee not only developed the key components, such as URIs and web browsers that allow us to use the Web, but offered a coherent vision of how each of these elements would work together as part of an integrated whole."
Another quote comes from Google Distinguished Scientist, Andrei Broder - remember it is Google that funds the prize, which as the computing equivalent of a Nobel Prize currently stands at $1 million - who says:
"The Web has radically changed the way we share information and is a key factor for global economic growth and opportunity. The idea of a web of knowledge originated in a brilliant 1945 essay by Vannevar Bush. Over the next decades, several pieces of the puzzle came together: hypertext, the Internet, personal computing. But the explosive growth of the Web started when Tim Berners-Lee proposed a unified user interface to all types of information supported by a new transport protocol. This was a significant inflection point, setting the stage for everyone in the world, from high schoolers to corporations, to build their Web presences and collectively create the wonderful World Wide Web."
Berners-Lee was at the European Organization for Nuclear Research (CERN) when he came up with the idea of the web as a way that would allow scientists around the world to share information with each other on the, then fledgling, Internet. The ACM lists the tools he invented to make his proposed system work:
Uniform Resource Identifier (URI) that would serve to allow any object (such as a document or image) on the Internet to be named, and thus identified.
Hypertext Transfer Protocol (HTTP) that allows for the exchange, retrieval, or transfer of an object over the Internet.
Web browser, a software application that retrieves and renders resources on the World Wide Web along with clickable links to other resources, and, in the original version, allowed users to modify webpages and make new links.
Hypertext Markup Language (HTML) that allows web browsers to retrieve documents or other resources and render them as multimedia webpages.
Despite all of this Berners-Lee hasn't made a fortune from his invention. Instead his contributions have followed an open source approach. He is as founder and director of the World Wide Web Consortium (W3C), which sets technical standards for web development, as well as the World Wide Web Foundation, which aims to establish the open web as a public good and a basic right.
Currently Berners-Lee is the 3COM Founders Professor of Engineering at MIT and is a principal investigator at MIT's Computer Science and Artificial Intelligence Laboratory (CSAIL). He also holds a professorship at Oxford University. In the announcement of the Turing Award on MIT news he states:
"I'm humbled to receive the namesake award of a computing pioneer who showed that what a programmer could do with a computer is limited only by the programmer themselves. It is an honor to receive an award like the Turing that has been bestowed to some of the most brilliant minds in the world."
One reaction to the news is surprise that it has taken so long for ACM to get around to recognising his massive contribution that has had such an impact on the lives of so many people and who has a commitment to ensuring that it is extended to the rest of the world's population.
Back in 2009 New York Times journalist Steve Lohr asked Berners-Lee the question:
If he were do it over again today, would he do anything differently? Any regrets?
In reply Berners-Lee admitted he might make one change. He would get rid of the double slash "//" after the "http:" in Web addresses which he considered could have saved paper (and trees), plus the human labor and time spent typing two keystrokes that, while a programming convention that the time, turned out to be not really necessary.
More Information
ACM Turing Award Winners: Sir Tim Berners-Lee
ACM Turing Award 50 Celebration
Related Articles
ACM Celebrates 50 Years of Turing Award
CERN Celebrates 20 Years of World Wide Web
Queen Elizabeth Prize For Engineering Recognizes Internet and Web
Diffie and Hellman Receive Turing Award
Turing Award Now Million Dollar Prize
To be informed about new articles on I Programmer, sign up for our weekly newsletter, subscribe to the RSS feed and follow us on Twitter, Facebook or Linkedin.
---
Open Source Spurs Adoption Of Cloud Native Apps
30/08/2023
The Eclipse Foundation has released the results of its 2023 Cloud Developer Survey, revealing an increased enterprise reliance on open source technologies to accelerate the adoption of cloud native so [ ... ]
---
A Clock For 2023 - Too Good To Miss
03/09/2023
On this holiday weekend we take a break and look back at the wonder of off-the-wall clocks because it was too good to miss.
I have to admit I have a small passion for freaky clocks. They used to be h [ ... ]
More News
Summer SALE Kindle 9.99 Paperback $10 off!!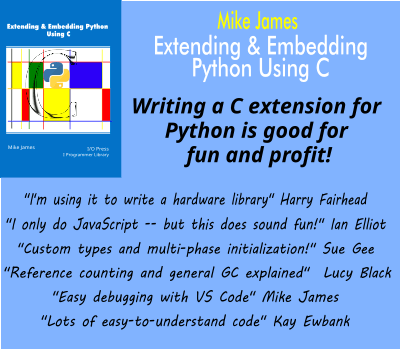 Comments
or email your comment to: comments@i-programmer.info
Last Updated ( Tuesday, 04 April 2017 )