JetBrains Survey Reveals Professional Developers Spend Spare Time Programming
Written by Janet Swift
Thursday, 11 June 2020
For the fourth year running JetBrains has conducted a survey of the "Developer Ecosystem". This year it was substantially bigger than previously and the results are released today.
JetBrains provides IDEs and tools for many of the programming languages that we use on a day-to-day basis. It claims to be serving 8 million professionals worldwide so it is well placed to run this annual survey.
Although 34,000 people participated in the Developer Ecosystem Survey 2020 conducted at the beginning of the year, JetBrain's report is based on the input of 19,696 developers from 18 countries and every graph in the report was built on data from no fewer than 300 responses obtained for each point.
The majority of those surveyed were web developers - 69% back end and 57% front end according to the chart below for which respondents were invited to select multiple options.
From another question about the type of software they developed, 54% create websites. 36% utilities, defined as small apps for small tasks and 30%database or data storage.
Turning to languages developers were asked to select up to three primary languages. JavaScript came top with 39%. It was closely followed by Java (37%), which the report tells us comes top among those who worked exclusively with only one language. Python (31%) comes in thrid place.
Looking back to my report last week on the Stack Overflow Survey which attracted over 65,000 qualified responses and asked which languages professional devs actually used JavaScript again came top, followed by HTLM/CSS and SQL, which come in fourth and fifth place respectively for JetBrains.
In the Stack Overflow survey 8% said they used Kotlin the language originally developed in-house and JetBrains and still largely maintained by the company as an open source project. This is a very close to the 7% reported as a primary programming language in the JetBrains survey and in both of the surveys Go comes just ahead of Kotlin.
JetBrains has Community Editions of many of its IDEs that are free for use in open source and so its not surprising to find a survey question about open source contributions. In this case the percentages add up to 100%:
The interesting finding here is that only 4% of respondents don't want to contribute to open source projects and if you add together the percentages of those who do contribute to open source it comes to 52%, i.e the majority.
The survey had an optional section on Lifestyle and Fun, which was completed by about two-thirds of respondents. Here are two interesting findings from it.
Almost three quarters of respondents used community forums, specifically Stack Overflow as a source of information. This compares with almost all of the respondents to the Stack Overflow survey, only 0.3% of whom hadn't visited the site prior to participating in it with 83% having a Stack Overflow account. News websites (and I think that includes I Programmer) attract 60% of JetBrains respondents.
JetBrains also asked programmers what they do as pastimes. As you might imagine Video Games attract almost half of respondents - but it wasn't the top choice. That honour went to Programming.
You can't stop a programmer from programming. Well over half of JetBrain's respondents do it their spare time. Again this statistic pales in comparison to Stack Overflow's finding, this time from its 2019 survey in which 80% of respondents claimed they code as a hobby.
More Information
The State of Developer Ecosystem 2020
Related Articles
JetBrains Survey 2019 - Do You Dream Code?
Are You A Typical Developer? - JetBrains Survey 2018
Stack Overflow Survey 2020 - What Professional Developers Use
To be informed about new articles on I Programmer, sign up for our weekly newsletter, subscribe to the RSS feed and follow us on Twitter, Facebook or Linkedin.
---
The PyCon AU and SciPy 2023 Sessions Are Now Online
15/09/2023
The talks presented at the 2023 PyCon Australia and SciPy are now available as YouTube playlists. Topics ranged from Data cleaning and visualization to APIs, GUIs and Parallelism.
---
BitLocker Defeated Using Logic Analyser
30/08/2023
Security is hard, very hard, in fact so hard that I really don't think a device can be secure if you have physical access to it. To prove the point news that Bitlocker can be bypassed if you have a ch [ ... ]
More News
Summer SALE Kindle 9.99 Paperback $10 off!!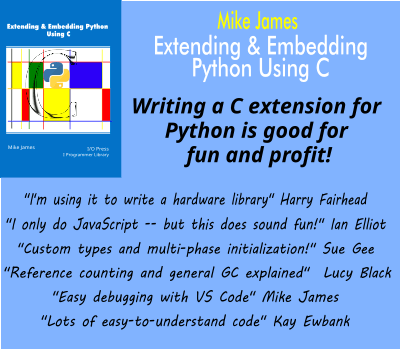 Comments
or email your comment to: comments@i-programmer.info
<ASIN:1871962536>
<ASIN:1871962587>
Last Updated ( Friday, 16 July 2021 )