Keeping Track of Computer Science Courses
Written by Sue Gee
Thursday, 17 July 2014
Page 2 of 2
Course Buffet
Although it doesn't have as extensive a course catalog as Class Central it has a similar approach. It includes only free courses and covers providers such as Saylor, NPTEL and the OpenCourseWare consortium that aren't well represented on other MOOC aggregators.
You can search by keyword and filter the resulting list by Subject, University, Level a five point scale 100, 200 to 500 that corresponds to US university codes, and provider. It solicits user reviews but doesn't have many so far.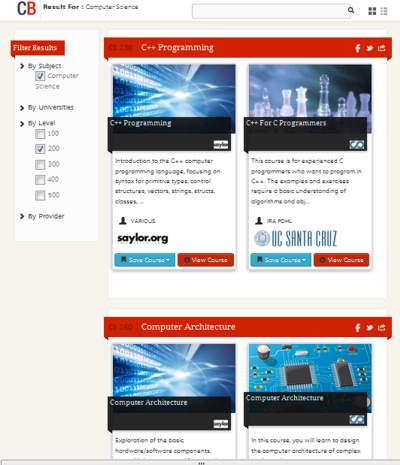 Top Free Classes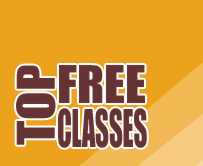 Top Free Classes places an emphasis on rating and review in order to rank courses in terms of popularity. So when you perform a search you'll find top rated courses at the top of the list:
It has ratings of some, but not all of the classes it lists, together with reviews from its members and you'll be presented with this information when you choose a course from the list, together with the information available from the course provider, including promo videos: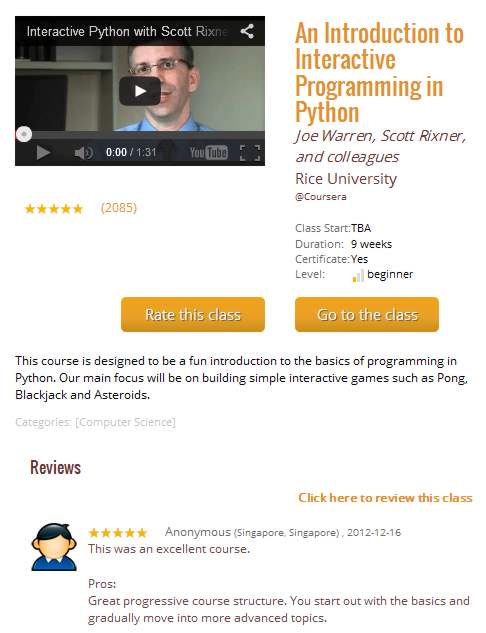 You can sign up to contribute a review and vote on existing ones and its community members are emailed personalized recommendations.
Its menu lists Computer Science as a topic but you can also use the search box to filter by topic - such as Python or Android. It also has collections - for example Data Science and Game Development. Course listing include the level (beginner, intermediate, advanced) of a course is at the right of its name.
RedHoop
Not all online training and education is free and Redhoop is a site that covers a wide range of video-based offerings some of which you have to pay for and so extends to providers such as Pluralsight and Lynda. It too ranks course by popularity and if you signup you can maintain a study list and you'll be notified of courses of interest.
Although Computer Science isn't one of its top categories (it is under Maths and Science) you can search by keyword and then filter not only by category provider and level (Beginner / Intermediate / Advanced / Appropriate for all) but also by price, duration, and whether or not it offers a certificate.
Accredible
If you are interested in collecting certificates Accredible is a site that helps you manage them and demonstrate your achievements. When you start a course you add it to your wall and upload your work (scores and projects) as you progress through it. Once you've finished not only can you upload the certificate you can get references from others, for example you studied with or your mentor or supervisor and can link to your Accredible credential, which includes supporting evidence as well as the certificate itself, from your CV or LinkedIn.
Accredible currently lists 10761 courses, both free and paid. It maintains lists of courses that are Featured, Popular and Starting Now & Soon. For the entire list you can filter by Course Characteristics, Self-paced/Timetabled/Short courses/Past Course, Sort by Popularity and use a slider that goes from free to $500. You can also search for specific courses by keyword as well as by Subject, Course Provider and Language.
Accredible also lets you search for people. When you add a course to your Accredible wall, you can see who else is studying it, the work they share, their questions and what other courses they are taking, which allows you to follow people who have similar interests you too and have a more social experience from the MOOCs you take.
If there are other aggregation sites for Computer Science MOOCs that I've missed please use the Comment section or drop me an email at Sue.Gee@I-Programmer.info.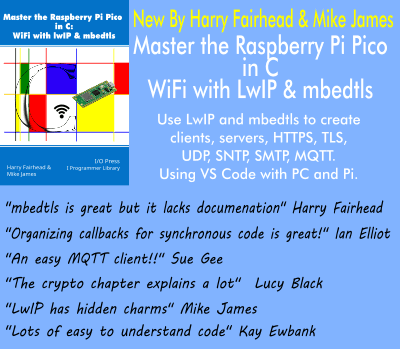 Comments
or email your comment to: comments@i-programmer.info
Last Updated ( Thursday, 17 July 2014 )