This is the third edition of a book introducing the elegant Python programming language and its easy-to-read syntax. Author Naomi Ceder has written the book for programmers new to Python. This latest edition includes new exercises throughout. It covers features common to other languages concisely, while introducing Python's comprehensive standard functions library and unique features in detail.
<ASIN:1617294039>
Author: Naomi Ceder
Publisher: Manning
Date: June 2018
Pages: 472
ISBN: 978-1617294037
Print: 1617294039
e-book: Free with print title
Audience: Programmers wanting to learn Python
Level: Intermediate
Category: Python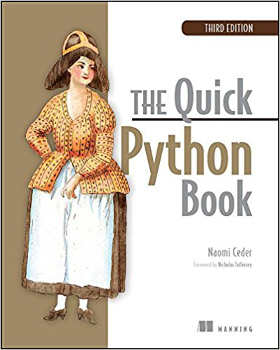 Clear coverage of Python 3
Core libraries, packages, and tools
In-depth exercises
Five new data science-related chapters
Related Reviews
For recommendations of Python books see Books for Pythonistas and Python Books For Beginners in our Programmer's Bookshelf section.
The Evolution of Cloud Computing
Author: Clive Longbottom
Publisher: British Computer Society (BCS)
Pages: 172
ISBN: 978-1780173580
Print: 178017358X
Kindle: B075XG81GJ
Audience: Potential cloud users
Rating: 4.5
Reviewer: Kay Ewbank This book aims to explain cloud computing in terms of how we got to where we are now, what options are available at the moment, and how things are likely to develop in the future.
+Full Review
eCommerce in the Cloud
Author: Kelly Goetsch
Publisher: O'Reilly, 2014
Pages: 282 ISBN: 978-1491946633
Print: 1491946636
Kindle: B00JW0YOII
Aimed at: IT managers and web architects
Rating: 4
Reviewed by: Kay Ewbank If you want to learn about scalable ecommerce will this book, with the subtitle "Bringing Elasticity to eCommerce", help you?
+Full Review