Thursday, 05 July 2018
This is the third edition of a book introducing the elegant Python programming language and its easy-to-read syntax. Author Naomi Ceder has written the book for programmers new to Python. This latest edition includes new exercises throughout. It covers features common to other languages concisely, while introducing Python's comprehensive standard functions library and unique features in detail.
<ASIN:1617294039>
Author: Naomi Ceder
Publisher: Manning
Date: June 2018
Pages: 472
ISBN: 978-1617294037
Print: 1617294039
e-book: Free with print title
Audience: Programmers wanting to learn Python
Level: Intermediate
Category: Python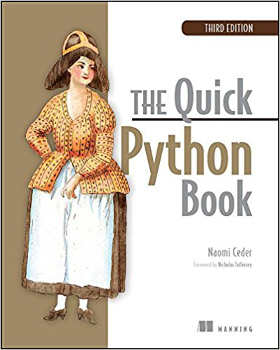 Clear coverage of Python 3
Core libraries, packages, and tools
In-depth exercises
Five new data science-related chapters
Related Reviews
For recommendations of Python books see Books for Pythonistas and Python Books For Beginners in our Programmer's Bookshelf section.
For more Book Watch just click.
Book Watch is I Programmer's listing of new books and is compiled using publishers' publicity material. It is not to be read as a review where we provide an independent assessment. Some, but by no means all, of the books in Book Watch are eventually reviewed.
To have new titles included in Book Watch contact BookWatch@i-programmer.info
Follow @bookwatchiprog on Twitter or subscribe to I Programmer's Books RSS feed for each day's new addition to Book Watch and for new reviews.
---
Practical Machine Learning
Author: Sunila Gollapudi
Publisher: Packt Publishing
Pages: 468
ISBN: 978-1784399689
Print: 178439968X
Kindle: B00YSIL7MA
Audience: Developers new to Machine Learning
Rating: 3.0
Reviewer: Ian Stirk
This book aims to introduce you to both basic and more advanced features of Machine L [ ... ]
---
21st Century C
Author: Ben Klemens
Publisher: O'Reilly
Pages: 408
ISBN: 9781491903896
Print: 1491903899
Kindle: B00NYBRH30
Audience: All C programmers apart from complete beginners
Rating: 4.5
Reviewer: Mike James
A C fit for this century? How different could it be?
More Reviews