Friday, 23 June 2023
This book looks at the processes and habits of highly creative individuals and discover how to build creativity into your programming practice. Wouter Groeneveld introduces seven domains of creative problem solving and teaches practical techniques that apply those principles to software development. Hand-drawn illustrations, reflective thought experiments, and brain-tickling example problems are used to get the creative juices flowing. and readers can track their progress against a scientifically validated Creative Programming Problem Solving Test.
<ASIN:1633439054 >
Author: Wouter Groeneveld
Publisher: Manning
Date: May 2023
Pages: 232
ISBN: 978-1633439054
Print: 1633439054
Kindle: B0C472R6GC
Audience: General
Level: Introductory
Category: Methodology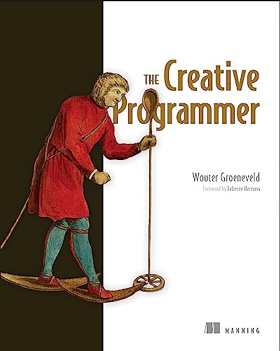 Topics include:
The seven dimensions of creativity in software engineering
The scientific understanding of creativity and how it translates to programming
Actionable advice and thinking exercises that will make you a better programmer
Innovative communication skills for working more efficiently on a team
Creative problem-solving techniques for tackling complex challenges
For more Book Watch just click.
Book Watch is I Programmer's listing of new books and is compiled using publishers' publicity material. It is not to be read as a review where we provide an independent assessment. Some, but by no means all, of the books in Book Watch are eventually reviewed.
To have new titles included in Book Watch contact BookWatch@i-programmer.info
Follow @bookwatchiprog on Twitter or subscribe to I Programmer's Books RSS feed for each day's new addition to Book Watch and for new reviews.
---
Beginning Flutter (Wrox)
Author: Marco L. Napoli
Publisher: Wrox
Pages: 528
ISBN: 9781119550853
Print: 1119550823
Kindle: B07YCVJW2D
Audience: Mobile developers
Rating: 4.5
Reviewer: Sanjay Kanade
Flutter is Google's SDK for writing mobile apps using the Dart language. It needs a good book - does this on [ ... ]
---
Query Store for SQL Server 2019 (Apress)
Author: Tracy Boggiano & Grant Fritchey
Publisher: Apress
Pages: 234
ISBN: 978-1484250037
Print: 1484250036
Kindle: B07YNL3X4X
Audience: SQL Server DBAs and Devs
Rating: 4
Reviewer: Ian Stirk
This book aims to use Query Store to improve your SQL Server queries, how does it fare?
More Reviews