JS Foundation and Node.js Foundation Progress Towards Merger
Written by Ian Elliot
Tuesday, 27 November 2018
Following on from the joint announcement of a planned merger and community feedback approving the intent, the boards of the JS Foundation and the Node.js Foundation are in what they call a "bootstrap" phase, exploring all of the potential details that must be considered as part of a merger.
Both boards believe that one tightly integrated Foundation working toward common objectives will be able to provide the brightest future for Node.js and the wide range of JavaScript projects. Their joint announcement made on October 4th stated:
We have not made any formal decisions at this point regarding a new or merged Foundation and its potential organizational structure, governance policies, technical framework or leadership. This will be formalized based on feedback from the Node.js and JavaScript communities.
A related announcement, from the Linux Foundation, to which they both belong, explains that the Node.js Foundation and JS Foundation boards had already met several times already to discuss a potential alignment of the communities and that the rationale for this is to:
expand the scope of the current Foundations and enable greater support for Node.js and a broader range of JavaScript projects.
Community feedback was requested via a Q&A session which was to the next week in Vancouver. In order to be transparent this "Town Hall" event was recorded and here's the video:
Subsequent meetings have also been recorded and notes have been postedL
ORIGINAl NEWS ITEM CONTINUES;
For anyone who isn't familiar with the situation, a little background may be helpful. The Node.js Foundation came about after a well publicized rift at the end of 2014 when Node.js was forked by a large group of its contributors who were unhappy with the way that the project's main sponsor, Joyent, was managing the project. The breakaway devs formed the io.js project which added advanced features to the platform at a rapid pace. The formation, in 2015 of the Node.js Foundation, as a Linux Foundation Collaborative Project, enabled the two factions to be reunited and the two code bases to be merged.
At around the same time the jQuery and Dojo foundations announced they were joining forces with support from IBM. It was this that led to the formation of the JS Foundation, also hosted by the Linux Foundation, with Kris Borchers as its Executive Director.
Yesterday Borchers tweeted:
The JS and Node.js Foundations announcement reiterated this message:
After having two separate Foundations for two years, we believe there needs to be a tighter integration between both Foundations to enable greater support for Node.js and a broader range of JavaScript projects. We look forward to continuing to support the healthy growth of the JavaScript ecosystem and look forward to the potential of supporting an even wider range of projects that the JavaScript ecosystem is dependent on as well as projects that focus on new areas of growth for JavaScript.
The goals for the merger, according to the announcement, are:
Enhanced operational excellence;
Streamlined member engagement;
Increased collaboration across the JavaScript ecosystem and affiliated standards bodies;
An "umbrella" project structure that brings stronger collaboration across all JavaScript projects; and
A single, clear home available for any project in the JavaScript ecosystem rather than projects having to choose between the JS and Node.js Foundation.
The Linux Foundation's announcement included this statement regarding the merger:
Today, JavaScript is nearly ubiquitous. Enterprises have been able to greatly reduce training costs and increase developer productivity because frontend JS developers can work on the server side, and vice-versa, eliminating the context switches and enabling all developers to pull from the same knowledge base and vast module ecosystem. Node.js is a major catalyst for this growth. It has become an important part of the modern web development stack and is often the assumed default when working with JavaScript. Merging the Foundations will bring the governance of these technologies in line with its real-world use.
---
Notepad++ Twentieth Anniversary
05/12/2023
An updated version of Notepad++ is available, on its 20th anniversary. The text editor first saw light in November 2003 when it was released on SourceForge.
---
The Pi 5 Breaks The Mold
29/11/2023
The Pi 5 is an exciting development bringing even more power for not much additional cost, but it also signals a bigger change in the Pi line-up, obscured by secretiveness.
More News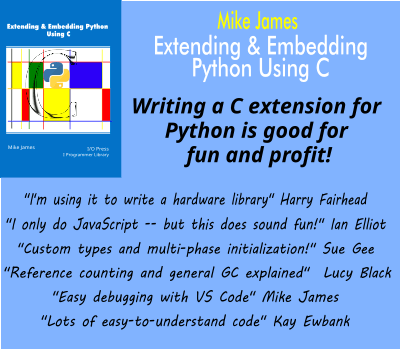 Comments
or email your comment to: comments@i-programmer.info
<ASIN:1871962579>
<ASIN:1871962560>
<ASIN:1871962501>
<ASIN:1871962528>
Last Updated ( Wednesday, 13 March 2019 )