Written by Harry Fairhead
Tuesday, 16 September 2014
This may not be the robot cat you were wishing for, but it is impressive and the stuff nightmares could be populated by.
The MIT Biomimetic Lab has been working on a robot cheetah for some time and they have just unveiled Cheetah v2. The aim of the research is to investigate animal locomotion and implement it as mechanical analogs.
In this case the robot is a based on a Cheetah - the fastest animal on the planet with a top speed of over 60mph. When a Cheetah starts to run it make use at first of a bounding gait which transforms into a gallop when the top speed is reached. Bounding is an efficient and simple gait that involves moving the front and back legs at the same time - see the video to understand what bounding is all about.
There are a number of interesting features of the Cheetah v2. It now runs without a tether and it is battery powered. Most high performance robots make use of internal combustion engines and hydraulic systems. This makes them powerful but noisy. In this case the team have managed to make the motors powerful enough to allow it to run at 10 mph and with a target speed of 30 mph. It carries its own batteries which makes it 30 kgm in a 0.7 meter length. It can also jump up to 30cm high while running at 10 mph.
The key to performance is the tight control of the force applied to the ground. A new algorithm works out how and when to best apply force to make best use of the stored energy while producing the highest speed.
After you have watched the video you have to be impressed. The work has been carried out for DARPA and ostensibly for search and rescue missions. However it doesn't take much imagination to see that it wouldn't take a lot of effort to turn the Cheetah into an offensive weapon. As it is powered by electricity, it is more or less silent and it can run on rough ground. It could very easily be turned into something much more deadly than the real thing.
---
SQLite 3.43 Released
05/09/2023
SQLite 3.43 has been released with new support for Contentless-Delete FTS5 Indexes, as well as better JSON processing.
---
pg_later - Native Asynchronous Queries Within Postgres
14/09/2023
pg_later is an interesting project and extension built by Tembo which enables Postgres to execute queries asynchronously. Fire your query - but don't forget to check later for the result.
More News
Summer SALE Kindle 9.99 Paperback $10 off!!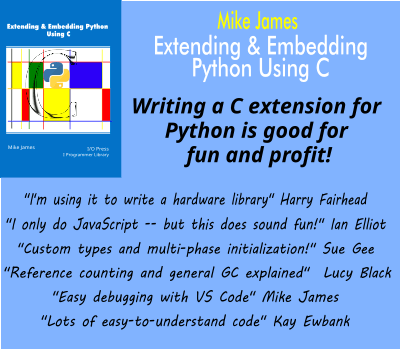 Comments
or email your comment to: comments@i-programmer.info
Last Updated ( Tuesday, 16 September 2014 )