Bjarne Stroustrup On Why Learn C++
Written by Sue Gee
Sunday, 20 October 2019
In a recent interview Bjarne Stroustrup advocates learning C++, the language he started to create while a PhD student in 1979.
In recent years Stroustrup's achievement in developing the language he initially called "C with Classes" has been recognized by a string of awards, the most recent being 2018 Charles Stark Draper Prize for Engineering, see Prestigious Prize For Bjarne Stroustrup.
C++ has always been an important and well-respected language. It maintained third place in the TIOBE index, behind Java and C, the language on which is was based, from 2001 when the index began until September 2018 when it was pushed into fourth position by Python. It briefly regained its traditional 3rd place this spring and is unlikely to go lower than 4th any time soon.
Over the years we've reported various interviews with Stroustrup that clarify the language's intent. This latest one is a conversation with Sonny Li and Mariel Frank, creators of Codecademy's new Learn C++ course on which Stroustrup provided feedback.
Among the questions he answered was:
If you could go back in time and change one thing about the original implementation of C++, what would it be?
Stroustrup replied:
I don't have a time machine and I shouldn't try to second-guess 1983-vintage Bjarne—he knew the conditions at the time better than I do now, and any significant change probably wouldn't have fitted in the 1MB memory I had to work with, and if it had maybe I wouldn't have been able to port the compiler to an early 640MB Windows machine.
But if I could and if realities of compatibility didn't get in the way, I'd like to eliminate the implicit narrowing and value-changing conversions. They are logically wrong and major sources of errors. For example:
Asked about uses of C++ he talked about the range of applications it is used for:
from rice cookers to space rockets. It is humbling to realize that just about wherever you look there is C++ involved: cars, movies, games, medicine, finance, computers, farming, etc.
I find it most gratifying that C++ has been used in science: the human genome project, the fundamental physics research at CERN and elsewhere, and the Mars Rovers. It feels great to have made a contribution, however small.
Advocating learning C++ he said:
C++ is one of the most useful languages there is. That should be a sufficient reason. Someone wanting to be a professional should know a few languages—not just one—and C++ is a good one to know for work that requires performance and reliability.
Finishing with:
In my opinion, the best reason for learning C++ is that it gives you insights into a variety of programming and design techniques that are applicable in a wide variety of languages.
Learn C++ is a 20-hour course of eight lessons aimed at complete beginners. While it is free, additional content, including quizzes, portfolio-building projects and customized paths are available through Codecademy Pro.
More Information
Talking C++: An Interview with Bjarne Stroustrup
Related Articles
C++ Experiences Comeback In TIOBE Index
Codecademy Introduces More Paid Options
Codecademy Adds Java For Beginners
Prestigious Prize For Bjarne Stroustrup
Bjarne Stroustrip Awarded IET Faraday Medal
Bjarne Stroustrup Awarded Dahl-Nygaard Prize
Bjarne Stroustrup Thinks He Has A Better Way To Do Generics
Towards Objects and Functions - Computer Languages In The 1980s
To be informed about new articles on I Programmer, sign up for our weekly newsletter, subscribe to the RSS feed and follow us on Twitter, Facebook or Linkedin.
---
2023 Hour Of Code Announced
10/11/2023
New activities for this year's Hour of Code have been announced. The focus for 2023,"Creativity with AI", is designed to let students learn about computer science and artificial intelligence.
---
Amazon Previews Q, Its AI-Powered Assistant
04/12/2023
Amazon has announced Q, a generative artificial intelligence powered assistant that can be tailored to the data in a specific organization.
More News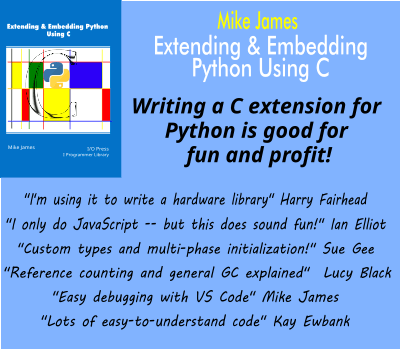 Comments
or email your comment to: comments@i-programmer.info
Last Updated ( Thursday, 24 October 2019 )