DevArt Exhibition Now Open
Written by David Conrad
Saturday, 05 July 2014
Google's DevArt is now on show at London's Barbican Centre as part of Digital Revolution, the biggest exploration of digital creativity ever staged in the UK.
According to Paul Kinlan on the Google Developer's blog:
Technology has long gone hand in hand with art and with DevArt we're showcasing the developers who use technology as their canvas and code as their raw material to create innovative, interactive digital art installations.
DevArt has its own gallery in the Digital Revolution exhibition which opened on July 3rd:
For DevArt Google initially commissioned three artists and, as we reported in February, ran a contest for its fourth commission. The prize of £25,000 to complete a digital art installation was awarded to Cyril Diagne and Beatrice Lartigue to enable them to complete Les Métamorphoses de Mr. Kalia.
The installation uses Android, Chrome Apps, Google App Engine, node.js, and openFrameworks to create tracking technology that transforms movement into a visual performance where visitors take on the persona of Mr. Kalia, a larger-than-life animated character, that undergoes a series of surreal changes while following your every movement.
Like the other four artworks, the project can be viewed on GitHub.
In Karsten Schmidt's Co(de) Factory, Android, Google Cloud Platform, Google Closure Compiler, WebGL, WebSockets, and YouTube have been combined to allow anybody to create art and become an artist. Not only does it give people the tools to create a work of art, it also offers them the chance to have their digital piece fabricated in 3D and showcased in the exhibition.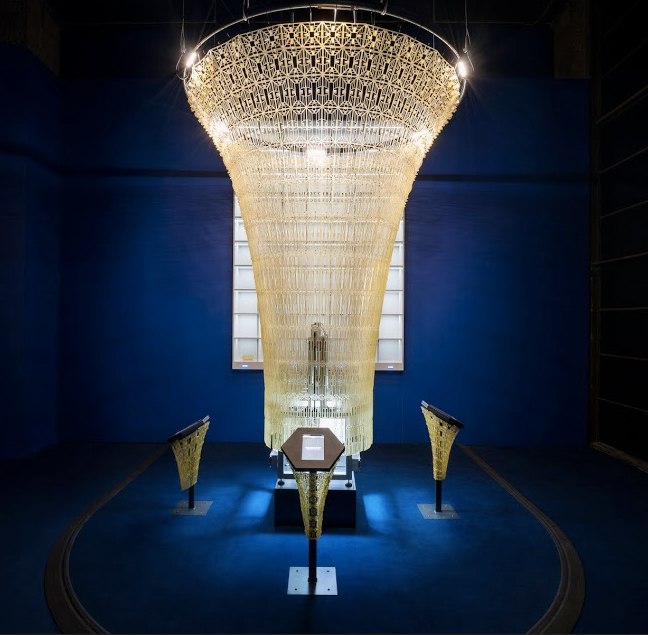 For Wishing Wall Varvara Guljajeva and Mar Canet take advantage of Google Compute Engine, Web Speech API, Chrome Apps, openFrameworks and node.js, to capture a whispered wish, and let you watch it transform before your very eyes, then reach out and let it land on your hand.
Finally for Play the World, which uses Google Compute Engine, Google Maps Geolocation API and openFrameworks, Zach Lieberman sources musical notes from hundreds of live radio stations around the world so that every time a visitor plays the piano at the centre of his piece a unique geo-orientated piece of music is produced.
DevArt is just part of Digital Revolution, which describes itself as "An Immersive Exhibition of Art, Design, Film, Music and Video Games", setting out to explore and celebrate the transformation of the arts through digital technology since the 1970s. The show also looks to the future and considers the impact of creative coding, DIY and maker-culture, digital communities and the creative possibilities offered by augmented reality, artificial intelligence, wearable technologies and 3D printing.
From July 7 - 25, while DevArt is at the Barbican, Karsten Schmidt, Zach Lieberman and duo Vavara and Mar will lead a series of creative workshops for schools, youth groups and code clubs. This is the fisrt phase of an education component of DevArt and is:
designed to inspire a new generation of coders through the lens of creativity—especially for those who have never tried coding before. The objective of the programme is to enable educators to give their students a new-found appreciation of the power and creative possibilities of code.
Digital Revolution remains open in the Barbican in London until September 14th and over the following five years will visit other cities around the world. If you can't get to one of its venues in person there's more to explore at its multi-lingual website.
---
Java 17 Release Promises Faster Performance
21/09/2021
Java Development Kit 17 and Java 17 are now generally available. JDK 17 was announced by the Open JDK group and Oracle released the new version under a commercial license for those using the Oracle JD [ ... ]
---
Java and Python Again Share Second Place In RedMonk Rankings


25/08/2021




In the latest iteration of the RedMonk Programming Language Ratings, for June 2021, Java has tied with Python in second place, a repeat of the situation that initially occurred in January 2020.

[ ... ]

More News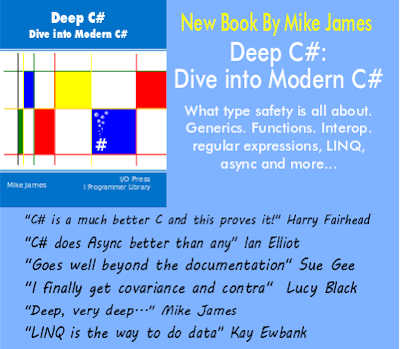 Comments
or email your comment to: comments@i-programmer.info
Last Updated ( Saturday, 05 July 2014 )