JCP approves Java 7 and 8 road maps
Tuesday, 07 December 2010
The votes are in for Oracle's proposed roadmap for Java 7 and 8 - and Oracle's plans have been accepted. This leaves Apache having to decide whether to quit the JCP as it threatened last month.
After an extension to the original deadline the members of Java's governing body, the JCP, have voted to approve the proposals for Java SE 7 and Java SE 8. This poll that had acquired added significance as a result of the Apache Software Foundation's request to fellow JCP members to vote against Oracle's plans as a protester over the fact that Project Harmony has not been granted a TCK licence.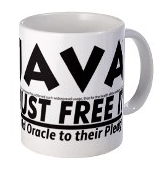 After Apache issued its ultimatum to Oracle, Oracle responded with an official response that stated:
We would encourage Apache to reconsider their position and work together with Oracle and the community at large to collectively move Java forward. Oracle provides TCK licenses under fair, reasonable, and non-discriminatory terms consistent with its obligations under the JSPA.
What Apache intends to do next is currently unclear but what has emerged is that while voting against Oracle Apache and Google (whose Andriod operating system uses a subset of Harmony) their no votes were qualified by an explanation that the decision was not based on the technical merits of Oracle's plan. but rather as an objection to field-of-use and licensing restrictions imposed by Oracle.
Equally, some of those voting "yes" to Java 7 and 8, including IBM, SAP AG, Eclipse and Credit Suisse, indicated their support of Apache and Google by saying their votes were based on the technical merits of the Oracle roadmap but that they objected to the field of use and license restrictions imposed by Oracle.
We now have to wait and see if Apache follows through and leaves the JCP. Some commentators have pointed out that the chances of Apache gaining a licence to use the TCK were always slim and they could side step the issue by simply pointing out that Harmony is a good open source implementation that is available now and that proof of compatibility via an imperfect test suite (all validation suites are imperfect) is unnecessary.
Related news items:
Key Java developer quits over Oracle control
---
Imagine Cup World Champions 2023
26/05/2023
Three teams, the top team from each of the contest's three regions took part in the ultimate stage of the Imagine Cup and travelled to Seattle to make their final 3-minute pitches to the panel of thre [ ... ]
---
ACM Awards For Contributions in AI and ML
12/05/2023
Bernhard Schölkopf and Stuart Russell are the joint recipients of the 2022 ACM-AAAI Allen Newell Award. They share the $10,000 prize, co-funded by the Association for the Advancement of Artificial In [ ... ]
More News
<ASIN:1430218754>
<ASIN:1933988991>
<ASIN:013701287X>
<ASIN:1430226234>
Last Updated ( Tuesday, 07 December 2010 )