Microsoft Shuts Coding4Fun - Big Changes At Channel 9
Written by Mike James
Monday, 15 January 2018
Without any warning Coding4Fun, a really useful and fun blog hosted on Microsoft's Channel 9 portal, has gone. There are also rumors of big changes to the portal itself. More proof that Microsoft doesn't value what it has and doesn't communicate with the outside world at all well.
If you have never read the Coding4Fun blog then you have been missing a treat. It is full of accounts of projects and project fragments that are both fun and very useful. It is part of the Microsoft Channel 9 blog which has been very influential in its own right and responsible for keeping programmers on board - even though it often seemed to be fighting an uphill battle.
Channel 9 was created in 2004 when Microsoft was having big problems. The idea was that, like the United Airlines audio channel, it would be a way of finding out what was happening in the cockpit, i.e. insider information. In practice it didn't ever achieve this status, but it was a useful source of information. As Microsoft thrashed around trying to find a direction, the guys and gals at Channel 9 turned out videos that tried their best to put a good and logical face on everything. You could/can listen to a Channel 9 video and often be almost convinced the Microsoft knew what it was doing.
You have to admit that 2004 to 2018 is a good run for any web facility, but now it seems Microsoft want to change things. The only certainty at the moment is that the Coding4Fun part of the site has gone:
At the moment all of the posts are still up and accessible. How long this will be the case is anyone's guess.
Why has Coding4Fun been axed?
There are few clues apart from a slightly enigmatic comment from Greg Duncan when asked why:
It was just time. Channel 9 is being re-invented and re-focused and there just wasn't really a place for traditional blogs like Coding4Fun. We'll see what happens as 2018 progresses. You never know, C4F may come back somehow, somewhere...
So there you have it Channel 9 is being re-invented for reasons that aren't clear. Most likely it is a matter of change for change sake - some new young broom is probably ready to make a mark by sweeping something clean and starting over.
It makes you wish that Microsoft was control by people who knew the price of everything and the value of community.
More Information
So Long and Thanks for All the Community!
Related Articles
Microsoft CodePlex Is Shutting Down
Microsoft Mass Migration To GitHub
To be informed about new articles on I Programmer, sign up for our weekly newsletter, subscribe to the RSS feed and follow us on Twitter, Facebook or Linkedin.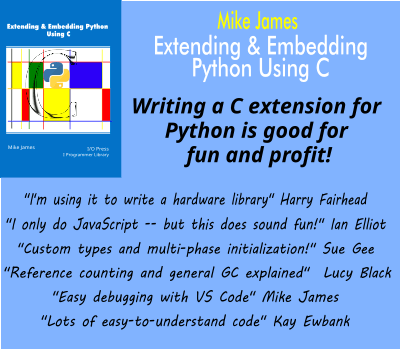 Comments
or email your comment to: comments@i-programmer.info
Last Updated ( Monday, 15 January 2018 )