Micro:bit Launches in US and Canada
Written by Sue Gee
Wednesday, 21 June 2017
The Micro:bit Educational Foundation has announced that the credit card-sized single board computer, pioneered in the UK by a consortium including the BBC and Microsoft for teaching school children to code, is now available to schools, clubs and families across the U.S. and Canada. Scratch has been added to line up of block-based languages it can be programmed in.
Initially announced in July 2015, the micro:bit was designed as a small versatile computer that would be cheap enough to be given away to roughly 1 million 11-12 year olds (Year 7) in UK schools. The original date for this distribution was Fall 2015 but it a series of delays meant that the first kits were only dispatched to schools in March 2016, too late in the school year to be fully utilized. The idea was that the micro:bits were to be handed over to the children to keep, so even though some schools decided to wait for the next school year to use them, the experiment of a mass coding experience to inspire an entire Year 7 cohort didn't fulfill its expectations.
During 2016 the BBC handed over responsibility for the micro:bit's future and its entry to the wider world to the Micro:bit Educational Foundation, headed by Zach Shelby, former Director of Technology for Internet of Things at ARM. At the launch of the new foundation Shelby said:
"Our goal is to go out and reach 100 million people with Micro Bit, and by reach I mean affect their lives with the technology."
Last December, as we reported in Micro:bit Coming Soon to USA, Adafruit raised expectations that the device would soon be available but it took almost 6 months for this to happen - Adafruit finally announced the BBC micro:bit as a new product on May 31st.
The board which measures 4 cm x 5 cm and doesn't come with a case, keyboard, mouse or display seems unchanged from its original spec:
ARM Cortex M0 with 16MB memory and Flash storage
25 red LEDs arranged in a 5x5 grid on the back
2 programmable buttons
On-board accelerometer
Built-in magnetometer
Bluetooth LE
3 AtoD convertors
3 Input and Output (I/O) "rings" to connect the micro:bit to devices or sensors using crocodile clips or 4 mm banana plugs
The educational focus too seems remains the same. Announcing its launch in the US and Canada, Hal Speed, Head of North America at the Micro:bit Foundation said:
Our goal is to put this device into the hands of 2 million elementary and middle school students in the U.S. and Canada by 2020, in an effort to ensure all children have the opportunity to learn these valuable skills. In the digital age, computer science is a foundational skill vital for every student to learn. It's a skill that applies to many different subjects, including math, science, art and music.

To coincide with the North American launch the micro:bit website has published the Microsoft 14 Week Curriculum targeted at middle school grades 6-8 (ages 11-14 years). This has been written:
for teachers who may not have a Computer Science background, or may be teaching an "Intro to Computer Science" course for the first time.
There have also been improvements with respect to the programming languages available for the micro:bit. There is a new JavaScript Blocks editor powered by Makecode - and here on I Programmer we are putting it through its paces with our Commando Jump game. There's also a Scratch extension to allow you to control your micro:bit wirelessly using Scratch programming blocks. This lets you use the tilt sensor or push buttons to interacting with Scratch projects and use the micro:bit's LED matrix to display information or create light animations.
Although pre-teens were the original target audience for the micro:bit, now it is generally on sale through distributors and retailers to many parts of the world it is expanding its audience to adults. In particular it is very suitable device for IoT (Internet of Things) projects. This is because the micro-bit is built on top of the ARM mbed IoT software for which the supporting C/C++ libraries have been open sourced, see The BBC Micro:bit Is An Mbed Device In C/C++. If you are interested in this potential see Harry Fairhead's book, which presents details of sensors and circuits with several complete programs.
The micro:bit is just too good not to be shared by all ages. Yes, you can use it to learn to code and explore computational thinking, but if you can already code you can use it to get into the world of IoT, embedded devices and electronics. You can get a long way without a soldering iron with the micro:bit, but combine it with some real world sensor and WiFi and you open up a world of possibilities. There is also growing micro:bit developer community with its own Slack channel.
More Information
Related Articles
BBC micro:bit Your Next Computer?
BBC Micro:Bit Finally Ships to 1 Million For Free
Micro:bit IoT In C (I/O Press) in Book Watch
The BBC Micro:bit Is An Mbed Device In C/C++
The BBC Micro:bit Which Language?
Commando Jump Game For The Micro:bit In Python
Commando Jump Game For The Micro:bit In JavaScript
Micro:bit Commando Jump In The Microsoft Block Editor
Commando Jump Game For The Micro:bit In Touch Develop
To be informed about new articles on I Programmer, sign up for our weekly newsletter, subscribe to the RSS feed and follow us on Twitter, Facebook or Linkedin.
---
GitHub Announces AI-Powered Changes
09/11/2023
GitHub has announced changes to its platform that will use AI "in every step of the developer lifecycle". The intention is to make natural language become the universal programming language. The annou [ ... ]
---
Spatial Data Management For GIS and Data Scientists
24/11/2023
Videos of the lectures taught in Fall 2023 at the University of Tennessee are now available as a YouTube playlist. They provide a complete overview of the concepts of GeoSpatial science using&nbs [ ... ]
More News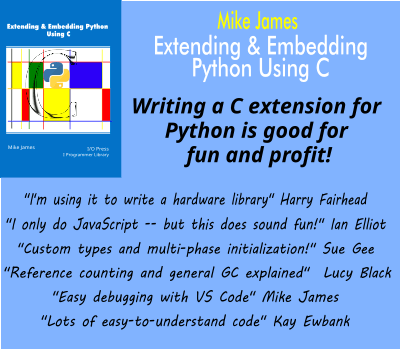 Comments
or email your comment to: comments@i-programmer.info
<ASIN:1871962455>
Last Updated ( Wednesday, 21 June 2017 )