New Astro Pi Units Now Aboard ISS
Written by Harry Fairhead
Monday, 03 January 2022
Two new, upgraded, Astro Pi units were launched on a SpaceX Falcon 9 rocket on December 21st, 2021 and arrived the following day at the International Space Station, ready to perform experiments coded by school students as part of the challenge set by the European Space Agency and Raspberry Pi Foundation.
As we reported, the first pair of Astro Pis were taken to the IIS by British astronaut Tim Peake in December 2015 as part of the Principia mission. At the beginning it was just UK school pupils who were able to code the Pi's, but the following year this opportunity was extended to all of the ESA States. Since they arrived at the IIS the original Astro Pis, which were specially encased first generation Raspberry Pis and were named "Ed" and "Izzy", have run code written by more than 54,000 young people from 26 countries across Europe and Canada. Now two new Astro Pi units have been sent to replace them. In this video ESA astronaut Samantha Cristoforetti reveals their specs:
The new Astro Pis are Raspberry Pi 4 Model Bs with 8GB of memory. As before they have a special rugged, lightweight, aluminum casing and are equipped with gyroscope, accelerometer, magnetometer, and sensors to measure humidity, temperature and pressure. They have new color and luminosity sensors which will expand the range of experiments that students can design.
The new Astro Pis are also fitted with the Raspberry Pi High Quality Camera which will not only will provide for taking full color photographs of Earth, but also enable teams to investigate plant health thanks to the higher-quality optical filter in conjunction with the IR-sensitive camera.
The other new kit is Google's Coral Machine Learning Accelerator which will allow teams to develop machine learning models enabling high-speed, real-time processing.
The Astro Pis are now ready to participate in the new European Astro Pi Challenge run by the Raspberry Pi Foundation in collaboration with ESA Education. As before, there are two challenge levels, both open to young people aged 19 or under from ESA Member States, or Slovenia, Canada, Lithuania, Latvia, or Malta.
Mission Zero, suitable for beginners, requires a simple Python program that takes a sensor reading and displays a message on the LED screen. In addition all Mission Zero participants will have the opportunity to vote for the names of the two new Astro Pi computers.
Mission Space Lab is for teams of 2-6 young people who want to code their own scientific experiment for the Raspberry Pi computers aboard the ISS. Registration closes on 29 October 2021 and teams whose experiment idea is accepted into Phase 2 of the challenge will receive an Astro Pi kit to help design and test their experiments on Earth. These kits provide a Raspberry Pi 4 computer with 4GB RAM and the array of sensor plus a Raspberry Pi HQ Camera, Where teams are conducting experiments involving machine learning, a Coral machine learning accelerator will also be supplied.
This sounds like a great way for teachers to bring computing and electronics into the classroom. And at the end of the day the experiments are sent into space. It brings a whole new perspective to Raspberry Pi IoT.
---
Insights Into Software Supply Chain Security
08/11/2023
A report from Chainguard reveals that while software developers and security leaders are committed to tackling software supply chain security, differences in their perspectives and prioritie [ ... ]
---
Visual Studio Code Adds More Audio Cues
07/11/2023
Visual Studio Code has been updated with the addition of more audio cues, and improvements to the Python extension.
More News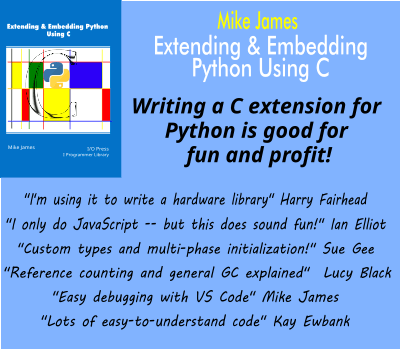 Comments
or email your comment to: comments@i-programmer.info
<ASIN:1871962633>
<ASIN:1871962668>
<ASIN:1871962641>
<ASIN:187196265X>
Last Updated ( Monday, 03 January 2022 )