Written by Harry Fairhead
Thursday, 28 October 2021
Updated: Pi Zero 2 W released.
Raspberry Pi boss Eben Upton has revealed that we about to welcome a new member of the family - the Pi Zero 2 W - at the same low price ($15) as the original Pi Zero W.
Update:
The Pi Zero 2 W is now available for sale, but at the time of writing many suppliers have already run out of stock. Its specifications are:
Broadcom BCM2710A1, quad-core 64-bit SoC (Arm Cortex-A53 @ 1GHz)
512MB LPDDR2 SDRAM
2.4GHz IEEE 802.11b/g/n wireless LAN, Bluetooth 4.2, BLE
1 × USB 2.0 interface with OTG
HAT-compatible 40 pin I/O header footprint
MicroSD card slot
Mini HDMI port
Composite video and reset pin solder points
CSI-2 camera connector
H.264, MPEG-4 decode (1080p30); H.264 encode (1080p30)
OpenGL ES 1.1, 2.0 graphics
It seems that the Zero 2 is 5 times faster on multi-threaded workloads and 10% faster on single-threaded tasks, but notice it still only has 512MB of RAM. It also needs more power up to 400 to 500mA when all cores are in use compared to the Zero's 150mA. There are also indications that it gets hot faster than the original and hence a heatsink is a good idea.
In nearly all cases the Zero 2 is a drop-in replacment for the Zero with the possible exception of power supply and heat sink.
The good news is that while the Zero 2 W is $5 more expensive than the Zero W, there are no plans to phase out either it or the bottom of the range Zero. The bad news is that when I tried to buy one I couldn't find any one willing to sell more than one per customer. Perhaps this will change in the future.
Original News 27th Oct
The Pi Zero W is a remarkable device and it would be capable of a single-handed (board) revolution in embedded design. It is cheap enough to consider as a replacement for a primitive microcontroller. yet it runs Linux and has WiFi. Other boards in the same price range have WiFi, but being able to run Linux makes the Zero special.
So why hasn't it revolutionized the world?
Simply because its supply has been limited to one-per-customer since its introduction. On that basis who would use it in a design?
The current Pi Zero 1
In an interview, Eben Upton has revealed that the is a new Pi Zero 2 in the wings. The problem with the old Zero is its chip packaging technology. Going forward the new Zero 2 will use the same chip as that in the Pi 3. The existing Pi Zero W uses the chip that was used in the Pi 1 and this is much less efficient than the Pi 3.
The Pi Zero 2 W will be a Pi 3 in a smaller form factor
What this means is that the Pi Zero 2 W should be only slightly less fast than a Pi 3 as its clock is set at 1GHz, like the original Pi Zero, and a Pi 3 clock defaults to 2.2GHz. The Pi Zero 2 W has a four-core 64-bit processor compared to its predecessor's single-core 32-bit processor. This means that the Pi Zero 2 W delivers the power of a Pi 3 in the form factor of a Pi Zero. This makes all sorts of things possible that were just too slow before. Given the suggested price of $15 for the Pi Zero 2 W, it also lowers not just the size but the cost of running a multi-core Linux device.
All of this is unconfirmed at the moment and no release date has been given, but if the limit of one-per-customer is also lifted this could be the start of something really interesting.
The Zero 2 fits into the same form factor as the Zero
More Information
New product: Raspberry Pi Zero 2 W on sale now at $15
Related Articles
Raspberry Pi Chip Shortages Cause Price Hike
Pi Zero Wireless A $10 Birthday Present
Raspberry Pi Most Popular Industrial IoT Device!
Pi Compute Module 4 - Time to Take Industrial Pi Seriously
The New Raspberry Pi Pico Breaks The Mold
Raspberry Pi 4 Sets New Performance High At Same Cost
To be informed about new articles on I Programmer, sign up for our weekly newsletter, subscribe to the RSS feed and follow us on Twitter, Facebook or Linkedin.
---
Grafana Adds New Tools
14/11/2023
Grafana Labs has announced new tools to make it easier to analyze application data on Grafana Cloud. The announcements are an Application Observability tool for Grafana Cloud, and Grafana Beyla, the e [ ... ]
---
Google Resumes Transition To Manifest V3
17/11/2023
Google has resumed the planned deprecation of Manifest V2, giving notice to Chrome extension developers that Manifest V2 extensions will be phased out as early as June 2024 in the prestable versions - [ ... ]
More News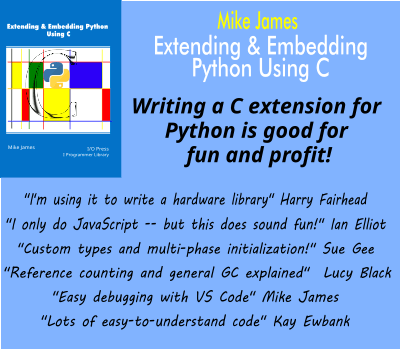 Comments
or email your comment to: comments@i-programmer.info
<ASIN:1871962633>
<ASIN:1871962668>
<ASIN:1871962641>
<ASIN:187196265X>
<ASIN:1871962684>
<ASIN:1871962692>
Last Updated ( Thursday, 28 October 2021 )