Arduino Zero Pro Released Amid Legal Dispute
Written by Harry Fairhead
Wednesday, 11 March 2015
There are now two websites using the distinctive Arduino logo and style. This reflects a split among the original founders and has resulted in a dispute that has gone to court. Meanwhile a version of the Arduino Zero has gone on sale.
You can currently buy the Zero Pro from the website Arduino.org - a name that makes it sound as if it was the "official" Arduino site. It is not however the original site - which is Arduino.cc - and which displays the Arduino Zero on its product list as "Coming Soon".
Makers around the world are familiar with the Arduino as an open-source/open-hardware low-cost easy-to-use embedded development system. What you might not know is its history - that has just become very confused.
Arduino started out in 2005 as a project for students at the Interaction Design Institute Ivrea in Italy and the board took its name from a bar in Ivrea, where some of the founders of the project used to meet. In 2009 Arduino LLC, was set up in the USA by Massimo Banzi, David Cuartielles, David Mellis, Tom Igoe and Gianluca Martino and is the proprietor of the trade mark Arduino.
Last year, however, Gianluca Martino whose Italian company Smart Projects SRL has been the principal manufacturer of Arduino boards renamed his company Arduino SRL (a designation meaning private limited company) and took on Federico Musto, formerly CEO of Dog Hunter, an Internet of Things company that had previously contributed to Yun, as its CEO.
Two lawsuits, one in US and the other in Italy, are underway to resolve the dispute over the ownership of the trademark and the legitimacy of its use, but makers are probably more interested in the new hardware which is said to offer new opportunities for building IoT devices, wearable technologies, high tech automation and robotics and also that it is an ideal educational tool for learning about 32-bit application development.

Here is what www.arduino.org has to say about it:
The Arduino Zero Pro represents a simple, yet powerful, 32-bit extension of the Arduino UNO platform. The board is powered by Atmel's SAMD21 MCU, featuring a 32-bit ARM Cortex® M0 core.
With the addition of the Zero board, the Arduino family becomes larger with a new member providing increased performance.
The power of its Atmel's core gives this board an upgraded flexibility and boosts the scope of projects one can think of and make; moreover, it makes the Zero Pro the ideal educational tool for learning about 32-bit application development.
Atmel's Embedded Debugger (EDBG), integrated in the board, provides a full debug interface with no need for additional hardware, making debugging much easier. EDBG additionally supports a virtual COM port for device programming and traditional Arduino boot loader functionality uses.
The news from www.arduino.cc the original site, is that Arduino IDE 1.6.1 has been released. This follows closely on last month's major release, see Long Awaited New Arduino IDE Released, and has "fixed a lot of issues" according to the Arduino blog.

One issue that hasn't made it to the Arduino blog is the acrimonious split between the projects founders, although Massimo Banzi did issue a statement last month to refute the idea that he was stepping back from the project.
This sort of nonsense isn't a good advertisement for the open source or open hardware movement in particular.
---
Learn To Chat with Your Data For Free
28/08/2023
"LangChain: Chat with Your Data" is a brand new free and short course by Harrison Chase, CEO of LangChain himself, to learn how to use LLMs to converse with your own data. With around an hou [ ... ]
---
Learn About RISC-V From Linux Foundation on edX
01/09/2023
The Linux Foundation has a new free course on the edX platform for those who would like to learn about, and experiment with, RISC-V. A verified track, to earn a certificate of completion, is also [ ... ]
More News
Summer SALE Kindle 9.99 Paperback $10 off!!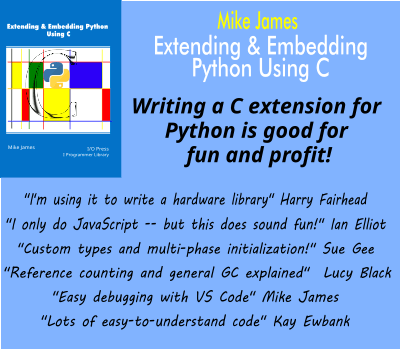 Comments
or email your comment to: comments@i-programmer.info
Last Updated ( Thursday, 12 March 2015 )