Java Out of Top Three In TIOBE Index
Written by Sue Gee
Wednesday, 14 December 2022
There's a reversal of fortunes in the December 2022 edition of the TIOBE index. C++ is back in third place, which was its traditional spot until ousted by Python in 2019. This time, however, it is Java that C++ has overtaken, relegating Java to 4th place, the lowest it has ever been.
The TIOBE Index has ranked the popularity of programming languages for over twenty years and for most of that time Java occupied first place in the table and otherwise second when C occasionally dominated. March 2020 was the last time Java came top and it first dropped to third place in November 2020 when it was overtaken by Python. While it did recover 2nd place momentarily, Python is now well in advance of Java. Being relegated again, this time by C++ has to be seen as another blow to its former dominance.
On this occasion C++ has jumped up at the same time as Java has slumped down. This has led C++ to nudge Java out of the top three, leaving the two them very close in terms of their ratings.
The surge of interest in C++ seems to have happened in two phases - at the start of 2018 when there was a sharp uptick followed by a downturn and then over the past twelve months with a steeper gradient in the most recent month. According to TIOBE its ratings are based on the number of skilled engineers world-wide, courses and third party vendors. Could it be that Udacity's introduction of a C++ Nanodegree in 2019 accounts for the rise in the popularity of the language. Probably not, but it is more than a simple co-incidence. That particular credential was singled out by Udacity as being among its top 5 when I posted Learn C++ With Udacity - 70% Off last week and that too indicates an enhanced level of interest in the language. (By the way, that discount offer is about to expire on Decmber 15th so hurry if you want to take advantage of it).
While it looks from the chart as if Java is in decline its change in rating is still in the positive direction (+1.7%) year on year. What is clear is that there is a substantial gap between Python and C at the top of the ratings table, with 16.66% and 16.56% respectively, and C++ and Python with 11.94% and 11.82%. Then comes an even bigger gap to reach C# (4.92%) and Visual Basic (3.94%) Both of these .NET languages are in decline, having lost 1.48% and 1.46% over the year respectively) and JavaScript, which currently has 3.19%, looks as if it might soon overtake them if its current upward trend (0.90% over the year) continues.
JavaScript's relatively low position in this index has always been a source of mystery to me given that it consistently comes top in terms of actual usage in both the GitHub Octoverse and Stack Overflow developer surveys and in the RedMonk rankings based on a correlation of interest and usage. But then the TIOBE index doesn't claim to reflect anything to do with the quality or quantity of code in programming languages and it's methodolgy of counting hits for the search query:
+"<language> programming"
is obviously going to disadvantage a language that is sometime called ECMAScript and sometimes just JS.
Java may have lost its position at the head of the TIOBE index but it's certainly not out for the count. See Where's Java Going In 2022? for an explanation of why Java is still the top Enterprise language.
More Information
Related Articles
Python Overtakes Java In TIOBE Index
C++ Picked Out By TIOBE - An Odd Choice?
Learn C++ With Udacity - 70% Off
JavaScript Still Tops RedMonk's Rankings
Most Used and Fastest Growing Languages
To be informed about new articles on I Programmer, sign up for our weekly newsletter, subscribe to the RSS feed and follow us on Twitter, Facebook or Linkedin.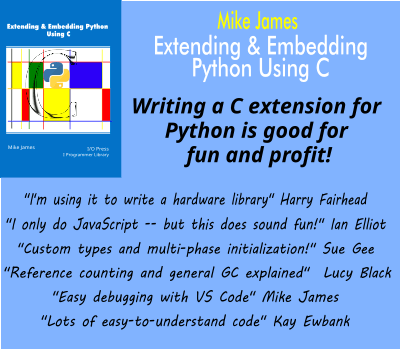 Comments
or email your comment to: comments@i-programmer.info
Last Updated ( Wednesday, 14 December 2022 )