Written by Mike James
Wednesday, 07 July 2010
Page 5 of 5
Trying it out
That's all there is to the logic of Life and at this point you can enter a pattern and see how it develops.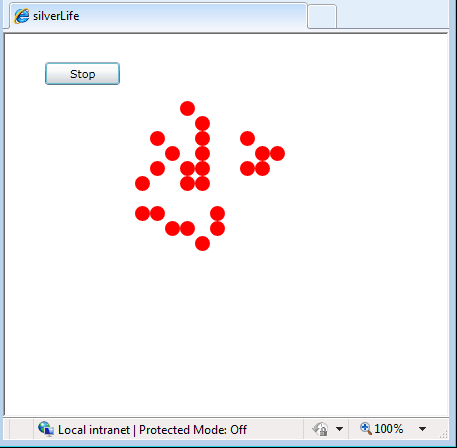 A pattern developing
Of course this being a Silverlight application there is no barrier to trying it out within this web page. As long as you have Silverlight 4 installed you should be able to see the Run button and the empty grid ready for you to draw some patterns:
From this point there is a lot that can be added to the basic project. Add a style to the Ellipses so that they look better, display each ellipse in a color that depends on the number of neighbours they have, add a save and load option etc.
To access the code for this project, once you have registered, click on CodeBin.
---
QuickSort Exposed
QuickSort was published in July 1961 and so is celebrating its 60th birthday. QuickSort is the most elegant of algorithms and every programmer should study it. It is also subtle and this often m [ ... ]
---
Setting Up Site-To-Site OpenVPN



Setting up a point-to-point VPN is relatively easy but site-to-site is much more complicated involving certificates and more IP addresses than you can count. Find out how to do it using OpenVPN.




Other Projects

<ASIN:0470534044 >

<ASIN:1430225491 >

<ASIN:1430219505 >

<ASIN:1847199763 >

<ASIN:1430230185 >


Last Updated ( Sunday, 12 September 2010 )